Middle East
Syria
'Syria determined to maintain territorial integrity'
Syria's recent hosting of Iraqi and Iranian military officials shows that the Syrian government is determined to maintain its sovereignty and territorial integrity, says a commentator.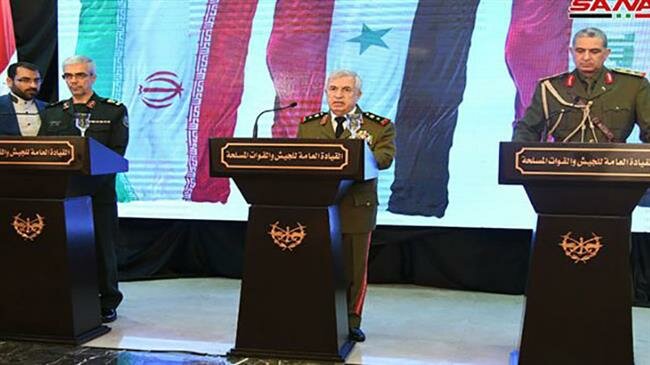 In a meeting with visiting Iranian and Iraqi military officials, Syrian President Bashar al-Assad said on Monday that cooperation among his country, Iran, and Iraq in anti-terror struggle had further strengthened their relationships.
In an interview with Press TV on Tuesday, David Yaghoubian, a professor of history at the CSU San Bernardino, said, "The Syrian government is determined to maintain its sovereignty and to regain all of its territory."
Foreign forces and proxies "have sought to destabilize and essentially destroy Syria's territorial integrity" in the interest of basically Saudi Arabia [and] Israel, Yaghoubian said.
Separately, Paul Larudee, a former US government advisor, told Press TV that independent-seeking countries needed to make powerful alliances in order to find a way to stand against major powers, especially the United States, which wants other nations as their own puppets.
"If any country wants to maintain its sovereignty and its independence — an independent economy, an independent foreign policy — it is going to have to find some alliances with more powerful or like-minded neighbors in order to defend itself," Larudee said.
A foreign-sponsored militancy began in Syria in 2011. With advisory military assistance from Russia and Iran, the Syrian government has been able to retake almost all of the territory that had been overrun by militant and terrorist groups in the course of that militancy.