Syria
Syria downed over 30 Israeli cruise missiles, bombs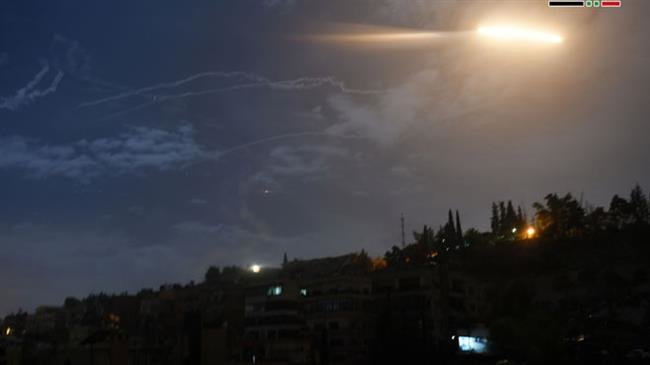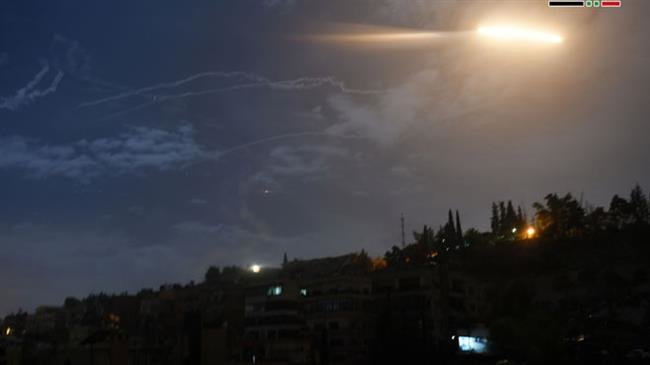 Russia says Syria's air defenses shot down more than 30 cruise missiles and guided bombs during Israel's aerial attacks in the early hours of Monday.
Russia's National Defense Control Center said Israeli airstrikes targeting an airport in southeastern Damascus killed four Syrian soldiers and wounded six others, RIA news agency said.
The announcement came after the Israeli military claimed in a statement that it had struck what it said were Iranian targets in response to alleged rocket fire it blamed on Iran.
The so-called Syria Observatory for Human Rights, a monitoring group sympathetic to militants, had also claimed that the Israeli air raids killed at least 11 pro-government fighters including two Syrians.
Israel reportedly launched an hour of air attacks over Damascus on a second consecutive night of military action in what appeared to be a face-saving attempt after Syrian air defenses thwarted an attack on Sunday.
The Sunday attack, launched by four Israeli F-16 jets, did not damage its targets, while Syrian air defenses shot down seven missiles fired at an airport near Damascus, Russia's control center said.
Syrian state media, citing a military source, said the country had endured "intense attack through consecutive waves of guided missiles" early Monday, but had destroyed most "hostile targets."
The Israeli military claimed that Iranian forces operating in Syrian territory had launched a surface-to-surface rocket from Syrian territory aimed at the northern occupied Golan Heights.
"In response to the attack, during the night (Israeli military) fighter jets struck Iranian Quds Forces military targets in Syria in addition to Syrian aerial defense batteries," it said.
Iran says it has military advisers in Syria on the request of the Syrian government to help cleanse the country of foreign-backed terrorists.
Last week, Israeli Prime Minister Benjamin Netanyahu claimed that Israeli forces had carried out "hundreds" of attacks against Iranians in Syria and warned them "to get out of there fast."
Head of the Islamic Revolution Guards Corps (IRGC) Major General Muhammad Ali Jafari dismissed Netanyahu's threats as "a joke" and warned that the Zionist regime "was playing with a lion's tail."
"You should be afraid of the day that our precision-guided missiles roar and fall on your head," he said. "Be sure, we do not take into account your ridiculous threats," the Iranian commander said.
"You know that if we have chosen to wait against your hostile measures, some considerations lie behind it," he added.
General Jafari also said "the Islamic Republic of Iran will keep all its military and revolutionary advisers and its weapons in Syria."
Israel launches airstrikes on Syria from time to time in what is widely viewed as an attempt to prop up terrorist groups that have been suffering defeat at the hands of Syrian government forces.
Last month, leading Israeli intelligence website DEBKAfile refuted Tel Aviv's claims that a recent aerial raid in Syria had targeted Iranians and Hezbollah fighters, saying the attack actually hit Syrian army positions.
Russia has also warned Israel against carrying out airstrikes near the Damascus International Airport.
The London-based al-Quds al-Arabi newspaper on Friday cited Russian sources as saying that Moscow would not tolerate further airstrikes in the area as it was seeking to renovate the airport.
In September 2018, a Russian reconnaissance aircraft with 15 servicemen on board was downed as Syria was responding to Israeli airstrikes.
Moscow held Israel responsible, saying the regime's pilots had intentionally used the Russian plane as cover to conduct air raids, effectively putting it in the crosshairs of the Syrian air defenses.
Russia stopped coordinating its airborne operations over Syria with Israel after the incident, and upgraded Syria's defenses with its S-300 missile systems.