Syria
Syria: Gov't Forces Drive ISIL Back From More Territories in Hama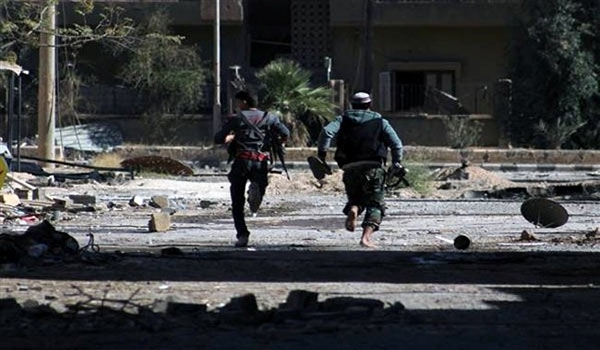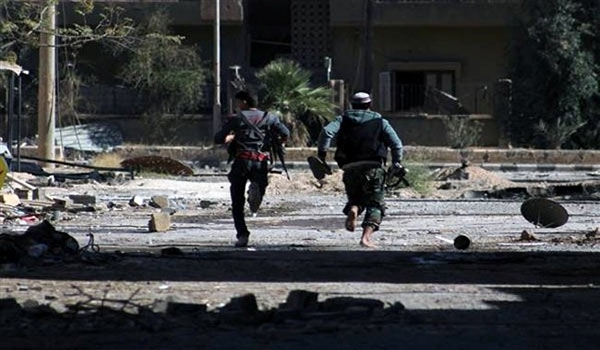 The Syrian Army and popular forces launched massive operations along Ithriya-Raqqa highway Northeast of Hama province, and forced the militant groups to retreat from more positions in the region.
The Syrian government forces won back Owla al-Talal height near the Ithriya-Raqqa highway following hours of intense battle against the ISIL terrorists.
The hill of Abu al-Zein, the Height No.5, the Old Police Station and al-Sad height also came under the full control of the government forces.
The militant groups left behind scores of the dead or wounded members and fled the battlefield to save their lives.
In the meantime, the Syrian army's aircraft bombed one the main concentration centers of the militant groups deployed in the village of Hamada Omar in Salamiyah region, which left tens of the terrorists dead or wounded.
Reports said earlier today that the Syrian army engaged in a tough battle with the ISIL terrorists in the Southeastern part of Hama province, killed over 10 militants and wounded several others.
The Syrian army raided the ISIL defense lines near a road connecting the village of al-Ramliyah and Ardh al-Sat'hiyat in Salamiyah region, which claimed the live of 10 terrorists, while some other were injured in the offensive.
In the meantime, the Syrian air fleet struck the militant centers near the town of al-Latamihah and the small town of Kafr Naboudah, which ended in the killing and wounding of several militants.
Hirbnafsa in the Southern part of Hama province was the scene of heavy fighting between the Syrian army and its popular allies with the militants, who left behind several dead or wounded members and fled the battlefield.