Syria
Syria- Heavy Losses Inflicted upon israeli-backed terrorists in Idleb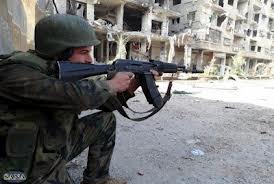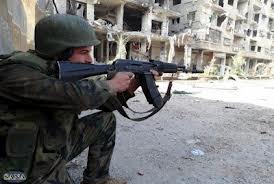 Army units continued its confrontation of armed terrorist groups in Idleb countryside, killing a big number of them and destroying their gatherings.
A military source told SANA that army units targeted terrorists gatherings in Maartamasrin, killed many terrorists and injured others.
The source added that other army units targeted terrorist groups in Sermin and Bennish, inflicting heavy losses upon them.
Army units continued destroying terrorists' gatherings in kherbet al-Joz in Jisr al-Shoghour countryside, Kafar Haya, Jabal al-Arbain, Ram Hamdan, Qaminas, Saraqeb, Tafranaz and the surrounding area of the Youth Camp, inflicting heavy losses upon them.
The source added that the engineering units dismantled seven explosive devices on the road of al-Mastoumeh-Ariha in the area of al-Sheikh Abdullah the weights of which range between 40 to 50 kg planted to target the passersby.
In Ariha area, the Army destroyed a car loaded with anti-armor rockets, RPG rounds, assorted projectiles, munitions and machineguns on the road between Iblin and al-Bara.
The Army also killed and injured a number of terrorists in the villages and towns of al-Shagher, al-Rami and Bannesh and destroyed heavy machineguns the terrorists had been using. Among the terrorists who were killed was Ibrhaim Hassoun, the leader of a group affiliated with Jabhet al-Nusra.