Syria
Syria- Huge Crowds before Foreign Ministry in Damascus in Rejection of AL Decision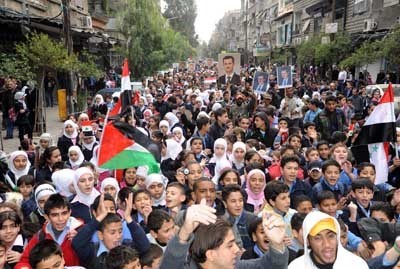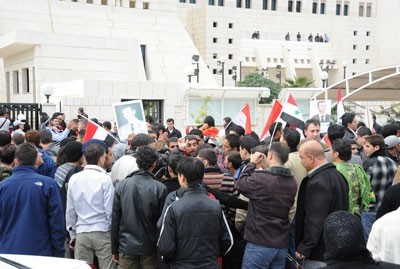 A crowd of citizens on Monday gathered in front of the Foreign and Expatriates Ministry to express support for the national independent decision and rejection of the Arab League's decision against Syria.
The participants held national flags and chanted slogans in rejection of foreign interference in the Syrian internal affairs.
They called upon the Arab countries to inspect the real stances of the Syrian people, stressing that Syria's suspension from the Arab League means that League is dead.
One participant, Abu Nadir, said "I'm 60 years old. I came here to express my rejection of the League's decision. We took to streets because it is our duty to defend the country we are living in under the leadership of President Bashar al-Assad."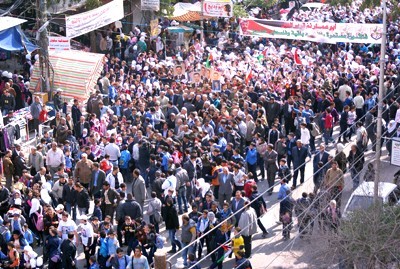 Mass rally in Al-Yarmouk Camp to Express Loyalty to Syria in Face of Plot, Rejection of AL Decision
The Palestinian people in al-Yarmouk Camp on Monday held a huge mass rally to express rejection of the Arab League decision and in solidarity with Syria in the face of the conspiracy targeting it.
The participants stressed the unity and coherence between the Syrians and the Palestinians in the face of the plot targeting Syria to undermine its national stances.
Khalid Abdul Majeed, Secretary-General of the Palestinian Popular Struggle Front, said that the Palestinian Coalition Forces condemn the AL irresponsible decision against Syria which is standing firmly in the face of the imperialist and zionist schemes and supporting the Arab causes and the Palestinian Cause.
"Our solidarity with the Syrian people is in solidarity with the legitimate rights of the Palestinian people in the right to return and as to build the independent Palestinian state with Jerusalem as its capital," he added.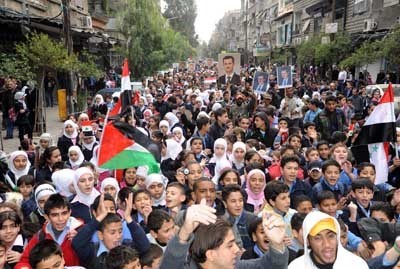 The participants expressed their unlimited support for the comprehensive reform program led by President Bashar al-Assad and their rejection of the decisions taken by the AL against Syria.
They also condemned the voting of the Palestinian Authority's representative at the AL in favor of the decision, adding that the decision is a prelude to foreign intervention in Syria's internal affairs.
They stressed that Syria will overcome the crisis and emerge more powerful, underscoring that the Palestinians will remain loyal to Syria until liberating all the occupied Arab territories, with Palestine on top of which.