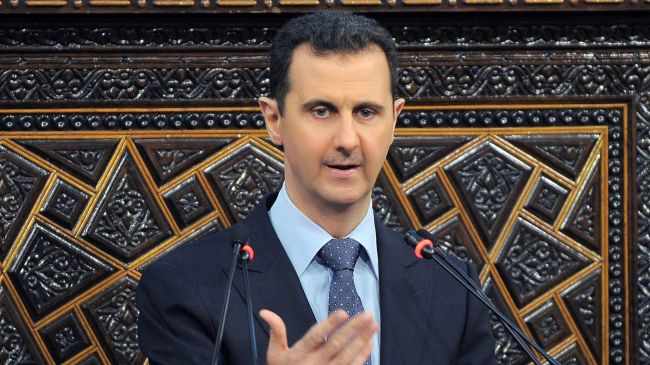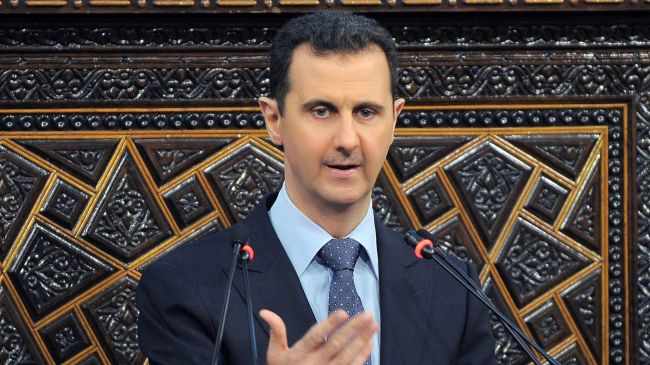 President Bashar al-Assad says Syria is engaged in a "crucial and heroic" battle that will determine the destiny of the nation.
"The army is engaged in a crucial and heroic battle… on which the destiny of the nation and its people rests. The enemy is among us today, using agents to destabilize the country, the security of its citizens… and continues to exhaust our economic and scientific resources," Assad said in a speech published by the official SANA news agency on Wednesday.
The speech was delivered on the 67th anniversary of the establishment of the Syrian army.
"They (the enemy) wanted to deprive the people of their national decision… but they were astonished to see these proud people, who confronted their plans and defeated them," the Syrian president stated.
"You men of the country… you have demonstrated, in dealing with the war waged against our country by the terrorist gangs, that you possess an iron will and a keen awareness."
Assad also pointed out that the Syrian "military remains the backbone of the motherland."
The latest speech by the Syrian president comes as fighting continues between Syrian security forces and foreign-sponsored armed groups in several areas across the country.
On Tuesday, the Syrian army cleared most areas of the northwestern city of Aleppo of armed groups, killing tens of rebels in the southwestern neighborhood of Salahuddin and the southern district of Sokari.
The Syrian Foreign Ministry recently sent two letters addressed to the head of the UN Security Council and the UN secretary general, stating that the rebels backed by Saudi Arabia, Qatar and Turkey are using civilians in Aleppo as human shields, and killing anyone who does not support their "horrific crimes."