Syria
Syria in Last 24 Hours: Army Destroys Large ISIL Arms Depot in Eastern Ghouta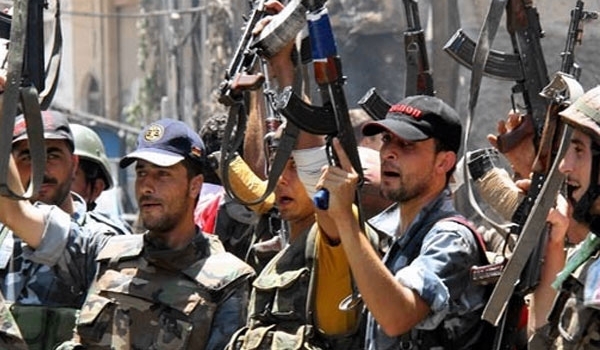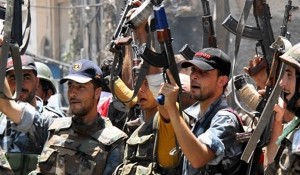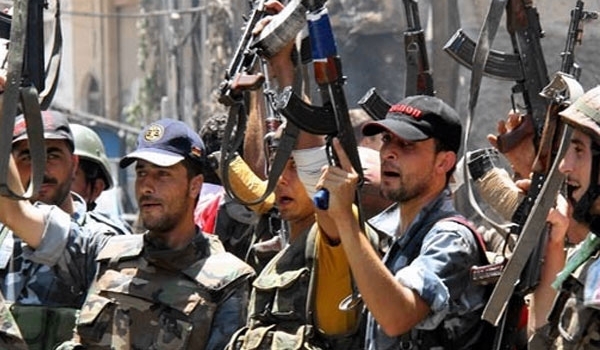 The Syrian air force destroyed a large arms depot of the Islamic State of Iraq and the Levant (ISIL) terrorist group in Eastern Ghouta in Damascus countryside.
Eye witnesses said a big blast happened at an arms depot of the militants and then they saw bodies of the terrorists flying in the air.
Also in the past 24 hours, the army continued its military operations in the strategic town of Rankous in Damascus countryside.
The army units completed siege of the militants in Rankous town in Al-Qalamoun region.
Meantime, the Syrian army continued its fierce clashes with the militants in Darya town in the Southern parts of the country.
Also, informed Iraqi sources disclosed that the ISIL leader, Abu Bakr Al-Baqdadi, left Iraq's Al-Anbar province for Syria's Al-Reqqa province.
Eye witnesses in the Western parts of Al-Anbar said that Al-Baqdadi and his forces in a convoy of 50 vehicles have moved towards Al-Reqqa on Saturday.
Last month, a Takfiri terrorist wrote on his Twitter account that Al-Baqdadi had been injured during army's operations in Syria.
Al-Baqdadi was injured during the operations of the Syrian army's Division 17 in Al-Reqqa city, Twitter account-holder Al-Towhid Institute wrote on his Twitter account.
Elsewhere, Syrian Armed Forces, in new series of operations, won the battles in various fronts in the outskirts of capital Damascus and al-Quneitra Province, killing, wounding and arresting large groups of militants.
A long convoy of rebels' vehicles loaded with weapons and ammunitions moving on the connecting road of al-Tayba town and Wa'aret Zakia was targeted by the Syrian commandoes who killed too many militants, a military source told SANA.
Syrian soldiers, meantime, staged massive attacks against insurgents in Beit Saber-al-Najjar Farm towards Sa'sa in al-Quneitra which resulted in killing and wounding of a large number of militants.
Also a large gathering center of the foreign-backed rebels was attacked by the army in western al-Zubayida, Mumtana and Deir Maker town where many terrorists were killed and wounded.
Meantime, Sharif as-Safouri, a Free Syrian Army commander, who was abducted by Al-Nusra Front in July confessed to receiving antitank weapons in return for protecting the occupied Golan Heights border for Israel.
According to a report by Lebanon's al-Ahd news website, Safouri said he collaborated with Israel in return for medical and military support, in a video released this week.
In a video uploaded to YouTube by the Executive Sharia Council in the Eastern Deraa region, an Islamic court established by Al-Nusra in Southern Syria, Sharif As-Safouri, the commander of the Free Syrian Army's Al-Haramein Battalion, admitted to having entered Israel five times to meet with Israeli officers who later provided him with Soviet anti-tank weapons and light arms.
Safouri was abducted by the al-Qaeda-affiliated Al-Nusra Front in the Quneitra area, near the Israeli border, on July 22.
"The (opposition) factions would receive support and send the injured in (to Israel) on the condition that the Israeli fence area is secured. No person was allowed to come near the fence without prior coordination with Israeli authorities," Safouri said in the video.
In the edited confession video, in which Safouri seems physically unharmed, he said that at first he met with an Israeli officer named Ashraf at the border and was given an Israeli cellular phone. He later met with another officer named Younis and with the two men's commander, Abu Daoud. In total, Safouri said he entered Israel five times for meetings that took place in Tiberias.
Following the meetings, Israel began providing Safouri and his men with "basic medical support and clothes" as well as weapons, which included 30 Russian (rifles), 10 RPG launchers with 47 rockets, and 48,000 5.56 millimeter bullets.
Earlier reports also indicated that Israeli hospitals are treating the injured ISIL militants fighting in Syria.
Israeli Prime Minister Benyamin Netanyahu also has made a visit to the field hospital established by the Israeli authorities on the occupied Syrian territories to treat insurgents.
Reports said in May that some 283 terrorists have so far been treated in Zif Hospital in the occupied city of Safed, added to several other hundreds who have been receiving treatment at other Israeli hospitals after getting wounded while being chased by the Syrian army.
Elsewhere, the Syrian army took back control over a hospital located in a strategic position in the Northern parts of the Aleppo countryside after fierce clashes with militants.
The army units pushed back the terrorists from Al-Kandi Hospital in Northern Aleppo and headed towards Handarat village to take control of the Handarat military camp in there.
Military sources said Handarat village is important because its liberation will pave the way for the Syrian army's further advances in Sheikh Najjar Industrial City.
Handarat village is located in the mountainous areas opposite the Kastillo road.