Syria
Syria in Last 24 Hours: Terrorists' Attacks on Army Positions Repelled in Homs Province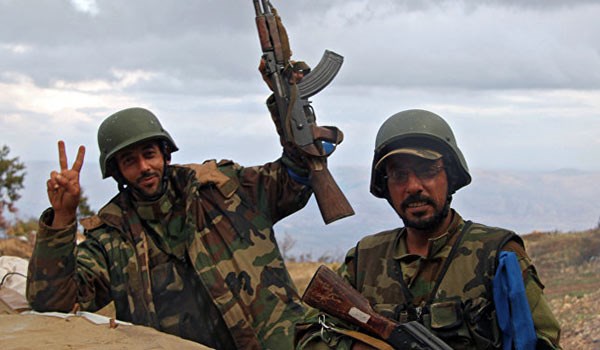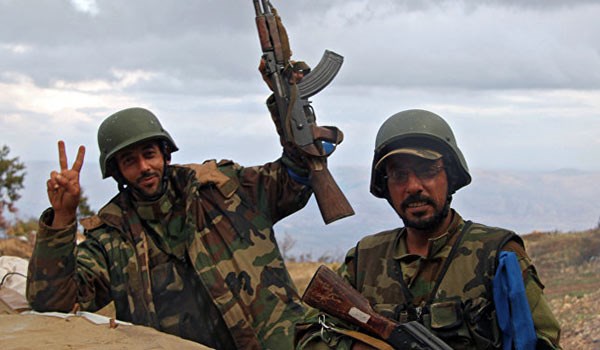 The Syrian army foiled an attempt by the terrorists to capture its military positions in Homs province.
The terrorists were pushed back from their strongholds in Homs province.
Scores of Takfiri terrorists were killed and wounded in tough battle with the Syrian government forces.
The Syrian army and popular force also continued their military gains in other key provinces across Syria.
Homs
The Syrian army soldiers and National Defense Forces (NDF) fended off terrorists' attacks to prevail over government forces' positions along a road connecting Homs to Tartus port, military sources said, stressing that the army has kept full control over the road.
"The Syrian government forces deployed in al-Wa'ar district in Homs city did not allow terrorist groups to cut off Homs-Tartus road from al-Kherab street, inflicting major casualties on the terrorists," the sources said.
"Syrian military forces engaged in heavy fighting with terrorists in al-Wa'ar and al-Basateen districts near al-Zara'a square. In the meantime, Syrian army's artillery units and air force targeted militants' centers in al-Wa'ar and destroyed their bases and equipment," they added.
Aleppo
The Syrian air force pounded the shelters and concentration points of the terrorists who had been ordered by their commanders to join others in the Southern parts of Aleppo, inflicting heavy losses on them.
"The Jeish al-Fatah terrorists had just arrived in Idlib from Darayya after reaching an agreement with the Syrian government to leave town in the Damascus countryside and were ordered to join other terrorists in the Southern Aleppo," a battlefield source told FNA.
The source noted that after receiving relevant intelligence tips, the Syrian fighter jets launched precision strikes on the shelters and gathering points of Jeish al-Fatah terrorists.
There is yet no report on the precise number of terrorists' casualties, but some sources announced that at least 20 terrorists were killed and tens of others were wounded in the Syrian airstrike.
The Jeish al-Fatah terrorists had been stationed in the Syrian army officers' housing complexes which are under the terrorists' control in Idlib now.
On Friday, the militant groups inside Darayya formally agreed to surrender the town after negotiating with a Syrian government delegation.
Under the terms of surrender, the Syrian government agreed to transport the remaining militants from Liwa Shohada al-Islam and civilians to their requested destinations.
Raqqa
The Syrian Democratic Forces (SDF), mainly comprising of Kurdish fighters, stormed ISIL's strongholds at the border of Aleppo and Raqqa provinces and pushed them back from at least five villages after hours of non-stop battle.
The SDF fighters engaged in tough battle with ISIL and took control over the villages of al-Baqal, Tal Othman, al-Nafileh, Um Jahash and Shams al-Deen.
ISIL suffered a heavy death toll and retreated from the battlefield.
Damascus
Terrorist groups in Eastern Ghouta suffered a heavy death toll and their military hardware, mainly their armored vehicles, sustained major damage in Syrian government forces' attacks.
Syrian soldiers struck militants' sites in farms near the town of Harran al-Awamid and a thermos power plant, which not only left several terrorists dead but destroyed a number of their armored vehicles.
The army, meantime, targeted terrorists' gatherings near the towns of Zmelka and Douma, claiming the lives of several militants.
The Syrian soldiers also hit a group of terrorists affiliated to Fatah al-Sham in al-Dakhbiyeh farms near Khan al-Sheih.
Reports said earlier on Monday that Syrian Army troops and their popular allies fended off offensives of Jeish al-Islam and then in a rapid counter-attack targeted the group's operation room in Eastern Ghouta.
Syrian government forces repelled Jeish al-Islam's attacks to break through army's positions near Harasta in Western side of Douma, inflicting major losses and casualties on the terrorists.
As soon as pinning down Jeish al-Islam terrorists, the Syrian army and popular forces launched a rapid counter-attack on the defense lines of Jeish al-Islam and destroyed their operation room in the region.
Hama
A commander of Jund al-Aqsa was killed in the Syrian Army troops' offensive in the Eastern side of al-Latamina in Hama province.
Abdul Rahim al-Jazzar was killed alongside his comrade in the Syrian soldiers' attacks in Northern Hama.
In the meantime, two vehicles of ISIL, one of them equipped with machineguns, were targeted by the army men in Southern side of the town of Morek.
At least 10 ISIL members were killed in Morek clashes.
The Syrian soldiers also stormed the gatherings of terrorists in Kafr Zita, claiming lives of at least 10 terrorists.
Also, the Syrian soldiers targeted Ajnad al-Sham's vehicles on a road to Idlib province, leaving at least three militants dead and several more wounded.
Dara'a
Commander of the terrorists of Golan Battalion was killed in clashes with Syrian army men in the Southern city of Dara'a.
The Syrian army soldiers continued to attack the terrorist groups' positions in Dara'a al-Balad and Dara'a al-Mahatta, hitting one of their commander centers, which ended in the killing of several militants, including Mohammad Quwider.
In the meantime, several mortar launchers of the militant groups were destroyed in army attacks in the Western side of Dara'a Dam.
Deir Ezzur
Syrian soldiers targeted ISIL's strongholds in the Eastern and Western countryside of the city of Deir Ezzur, slowing down ISIL's movement in the region.
Syrian military forces stormed ISIL's positions in al-Orfi neighborhood and the villages of Huweija Saker and al-Baqaliyeh, killing at least 15 terrorists and destroying their vehicles and mortar positions.
Syrian Army troops also repelled ISIL's attacks on government positions in Deir Ezzur airbase and al-Ummal neighborhoods, leaving tens of them dead or wounded.
Sweida
Syrian Army troops traced and targeted ISIL's fuel convoys in Sweida province, and destroyed most of the tankers.
Several oil tankers of the ISIL terrorist group came under attack and were destroyed by the Syrian Army troops in the Eastern countryside of Sweida province.
The Syrian Army destroyed a number of ISIL's oil tankers in Mashbak al-Widian in the Eastern side the village of Shaghaf and a surveillance post in Tal Saad in the Eastern countryside of Sweida province, killing all the terrorists inside," an army source said.