Syria
Syria in Past 24 Hours: Hundreds of Popular Forces Join Syrian Army in Anti-Terrorism Battle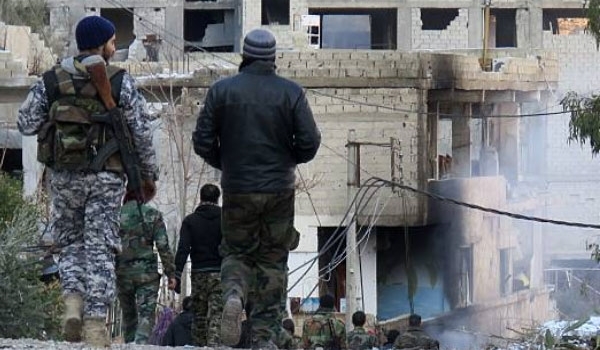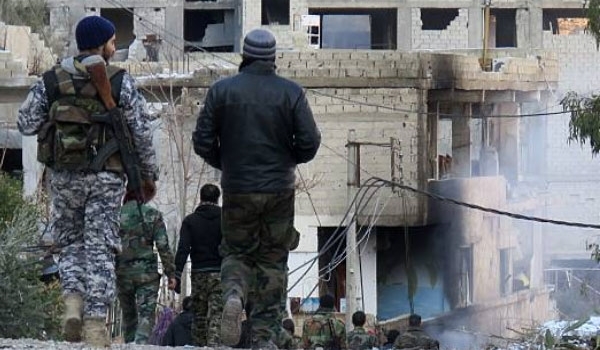 Hundreds of popular forces who have joined the Syrian army's operations against the terrorist groups were being trained in Lattakia city in Northwestern Syria, a media outlet reported on Tuesday.
The Arabic service of Sputnik reported on Tuesday that hundreds of volunteer forces from several Syrian cities and towns have recently participated in a training course by commandoes in Lattakia city.
Meantime, the Syrian army continued its military advances in other parts of Syria over past 24 hours.
Lattakia
The Arabic sputnik said that the popular forces have received military training and become familiar with different types of weapons, noting that they will participate in anti-terrorism operations in Idlib, Homs and Deir Ezzur as well as liberation of certain parts of Eastern Ghouta of Damascus.
Deir Ezzur
The US-led coalition fighter jets killed 16 civilians in Southeastern Deir Ezzur, local sources said on Tuesday.
The sources confirmed that the US warplanes attacked the town of al-Bahra in Southeastern Deir Ezzur, killing 16 civilians.
Late in January, local sources in Southeastern Deir Ezzur reported that a number of civilians have been killed or wounded in the US-led collation air raids.
The sources said that the fighter jets pounded the village of al-Bahara on the Eastern bank of the Euphrates River, killing five civilians and wounding several more.
Damascus
The Syrian and Russian fighter jets bombed a convoy of terrorists and their military equipment heading from Eastern Qalamoun region towards army positions in Eastern Ghouta of Damascus, inflicting heavy tolls and damages on them.
Field sources reported on Tuesday that the Russian and Syrian warplanes targeted the positions of Ahmad Abdu terrorist group and other militants who were preparing to launch an offensive against the Syrian army positions near al-Zamir airbase in North of Eastern Ghouta.
They added that during the airstrikes against the terrorists in regions near al-Rahibeh and Petra in Eastern Qalamoun a number of terrorists were killed and several of their vehicles and military equipment were smashed.
Members of Ahmad Abdu terrorist group were preparing to attack the Syrian army positions in the region.
In the meantime, media sources reported that the controversial White Helmets group was preparing for another plot against the Syrian government through a false-flag chemical attack in Eastern Ghouta of Damascus.
The Arabic-language al-Manar news channel quoted certain media outlets as reporting that intelligence shows that the White Helmets distributed masks in Eastern Ghouta for what they called as efforts to protect civilians from chemical gases.
Based on the report, apparently, the White Helmets group, often praised by Western media as courageous rescuers helping civilians caught in a battle zone, was creating a new scenario to raise chemical attack allegations against the Syrian army.
Also, the Syrian army's air and ground units smashed the military base and arm caches of the terrorists in the Eastern Ghouta of Damascus on Tuesday, as government forces were preparing for extensive operations in the region.
Field sources reported that the Syrian fighter jets and artillery units pounded the terrorists' positions and moves in the towns of al-Shifouniyeh, al-Nashabiyeh, Saqaba, Hamouriyeh, Mesraba, al-Mohammadiyeh, Hazeh, Beit Sowa, Jisrin, Kafr Batna, Duma and Arabayn.
Meantime, during the operations, several positions of the terrorists, including one of their training bases and a number of arms and ammunition caches in the farms between Harasta and Duma were destroyed.
The sources also confirmed that the Syrian army sent more forces and equipment from Central Syria towards Eastern Ghouta in Damascus, adding that there was an imminent possibility for the army's extensive operations in the region.
Aleppo
Media sources reported on Tuesday that Ankara is attempting to block the Syrian popular forces' deployment in Afrin in Northern Syria to halt clashes between the Kurds and the Turkish army.
The Arabic-language al-Mayadeen news channel confirmed that several routes in Marimin, Bastouleh and Jabal al-Ahlam which were due to be used by the Syrian volunteer forces to enter Afrin have been attacked by the Turkish army.
It also quoted Kurdish sources as saying that the Syrian army forces have not yet entered Afrin, adding that the logistic affairs have postponed their deployment.
Meantime, the Arabic-language al-Masdar news website reported that the Syrian army forces are present in two regions of Nubl and al-Zahra near Afrin and have not received order to enter Afrin yet.
The Turkish Army General Staff said in its latest statement on Tuesday that a sum of 1,715 Kurdish gunmen have thus far been killed or held captive in the Turkish army forces' operation in Afrin in Northwestern Aleppo.
The statement said that the Turkish army men and Ankara-backed militants continued Operation Olive Branch against the Kurds in Afrin, adding that a sum of 1,715 Kurdish fighters have been killed or captured in the operation that started on January 20.
Meantime, Tahrir al-Sham Hay'at (the Levant Liberation Board or the Al-Nusra Front) seized control of a positions of a newly-formed terrorist group named "Syria's Tahrir Front" in Western Aleppo amid intensified infighting among militants.
Field sources reported on Tuesday after the merger of Ahrar al-Sham and Nouralddeen al-Zinki terrorist groups in the form of Syria's Tahrir Front, Tahrir al-Sham militants attacked the newly-founded terrorist group's positions in Western Aleppo.
According to the sources, during the clashes, Tahrir al-Sham terrorists won control of the rival group's military base in al-Mohandesin 2 region along with a cache of weapons and ammunition.
Meantime, other members of Syria's Tahrir Front warned Tahrir al-Sham terrorists to withdraw from the base before they resort to any military action.
Also, reports said that members of Abu Omar Saraqib battalion terrorist group have defected Tahrir al-Sham and joined Syria's Tahrir Front.
In the meantime, Kurdish sources confirmed on Tuesday that tens of militants supported by Ankara were killed in bloody clashes between the Turkish army and the Kurds in Afrin.
The Kurdish-language Hawar news reported that they killed 20 militants affiliated to Turkey on Monday during attacks against them in the village of Houbakeh in Rajou region.
Meantime, the Turkish army fighter jets launched massive strikes on the villages of Sanareh, Onqaleh in Shiyeh and Hikjeh in Jandaris as well as several other villages in Shara.
Also, The Turkish army and Ankara-backed militants advanced in three fronts in Afrin on Tuesday during continued clashes with the Kurds in the region.
Sources affiliated to Ankara-backed militants reported on Tuesday that they have taken control of the strategic mountain of Samoud and the village of Khanteli.
They added that the Turkish army and its allies have also won control of al-Bayadhah base, Qabla hills and Boyout Satouf region in Jandaris front.
The sources also claimed that they have gained control of Nabi Houri castle and al-Roumani bridge in Sharan in Northeastern Afrin.