Middle East
Syria
Syria in Past 24 Hours: Tens of Foreign Terrorists Killed in Army's Ambush in Hama
A large number of Chinese terrorists of the Turkistai group were killed in the Syrian Army's ambush operations in Northwestern Hama, the Arabic-language media outlets said on Wednesday.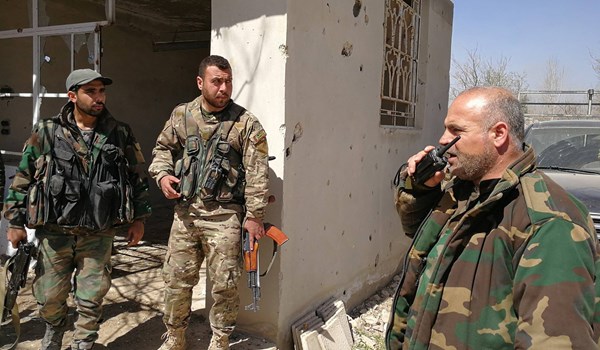 Hama
"Turkistani Party's Chinese terrorists launched an attack on the Syrian Army's military positions in Taleh Bakir in Sahl al-Ghab region in Northwestern Hama, the Arabic-language version of the Russian Sputnik news agency quoted a military source as saying.
The source noted that the Syrian Army troops ambushed the terrorists in Taleh Bakir and brought their movements under heavy artillery and missile attacks, killing a number of them and foiling their offensives.
A military source said the Syrian Army has established its military positions in Tal Osman region and its surrounding areas in Northern Hama, and added that the Syrian Army troops have advanced towards terrorists' strategic base in the town of Kafar Naboudeh in Northern Hama.
Homs
The Syrian Army and Air Force started their military operations to purge ISIL terrorists from Eastern Badiyeh (destert) in Palmyra in Eastern Homs, media reports said.
The Syrian Army units engaged in fierce clashes with the remnants of the ISIL terrorist group in a region stretching in the Eastern Palmyra and the Roads linking Humeimem and T2 stations, the Arabic-language al-Watan newspaper quoted a military source as saying.
It, meantime, noted that the Syrian Army's artillery units also targeted the movements and military positions of the terrorists in Palmyra's Badiyeh region, inflicting heavy losses on terrorists.
Meantime, the Syrian air force in a series of attacks hit the ISIL's movements in the surrounding areas of Abu Rajmin mountain in Northeastern Palmyra, the surroundings of Moayzeleh Dam, Avirez region in Eastern Homs to the joint borders with Deir Ezzur province, destroying several of their targets and killing a number of them.
Deir Ezzur
The US Army terrorists were destroying the passages and crossings linking Eastern Euphrates to other parts of Syria to cut off this region from the mainland, a media source said on Wednesday.
The Arabic-language Al-Watan newspaper reported that the US Army terrorists have exploded the ships and waterways in the town of al-Shahil in Eastern Deir Ezzur to Baqras town on Western Bank of the Euphrates, while claiming that they want to prevent smuggling from the areas under control of the Syrian Democratic Forces (SDF).
It pointed to the previous attempts by the US-led SDF in destroying all bridges linking the Eastern and Western banks of the Euphrates, and said that this attempt is part of the US moves to drive a wedge between Eastern and Western Euphrates.