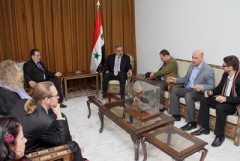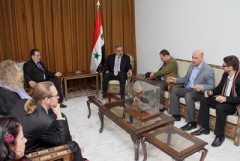 Information Minister Omran al-Zoubi said that the basic part of what is going on in Syria was because of the media war after media turned into one of the war tools on Syria.
"It was not by change that scores of mass media share, coordinate among each other, so possessing big capability to create the Syrian event and fabricate it," the Minister, meeting a Czech media delegation, said on Tuesday.
He underlined that since the outbreak of the events, Syria has been subjected to a war with the international terrorism.. al-Qaeda and its arms of Jabhat al-Nusra and others.
The Minister said that what Syria is encountering is the first confrontation between a sovereign, independent state and terrorists who illegally come to Syria, supported by intelligence agencies where the Turkish borders changed into training camps for thousands of gunmen linked to Islamic extremist organizations in the northern regions of Lebanon and Jordan.
He added that the terrorists in Syria intend to systematically destroy the infrastructure, the vital resources of the Syrian state which Czech has helped build them due to relations of friendship and cooperation.
The Minister called on the Czech media delegation to get acquainted with what is really taking place in the country and convey that to the Czech public opinion.
Members of the visiting delegation, for their part, availed this opportunity to convey an objective image on the events in Syria and unveil the reality which many media institutions seek to hide.
They added that their presence in Syria will help them enlighten a number of issues regarding the crisis in the country.