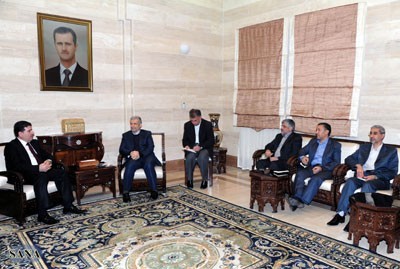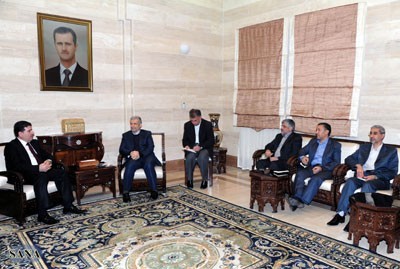 Prime Minister Wael al-Halqi stressed the deep-rooted friendly relations between Syria and the Islamic Republic of Iran.
The remarks came during his meeting with Hassan Kazemi Qomi adviser to Vice President of Iran in Damascus on Saturday.
Premier al-Halqi stressed the importance of enhancing economic cooperation to the level of the distinguished political relations bounding the two countries.
He said that Syria is facing armed terrorist groups backed by the USA and some Arab and regional countries, hailing the achievements of the Syrian army who is clearing the country from the terrorists and restoring security and stability to it.
He also hailed the stances of Iran, expressing thanks to Tehran for the efforts exerted to explain the reality of the events in Syria and for holding a national dialogue conference with the aim of solving the crisis in Syria through dialogue and national reconciliation.
The two sides also discussed the bilateral relations and means to bolster them in all fields, especially in the fields of economy, commerce, power, petroleum, exchanging goods and adopting measures to facilitates the flow of goods to the two countries' markets.
For his part, Kazemi Qomi hailed the steadfastness of Syria in the face of terrorism, stressing that Syria's firmness has foiled the US- Israeli strategy which aims at undermining Syria and the resistance.
He express his faith that Syria will defeat its enemies and overcome the current crisis.
The meeting was attended by Deputy Prime Minister for Services Affairs, Minister of Local Administration Eng. Omar Ibrahim Ghalawanji, Minister of Finance Dr. Mohammad al-Jleilati, Secretary- General of the Prime Ministry Tayseer al-Zoubi, Tehran Ambassador in Syria and the accompanying delegation.