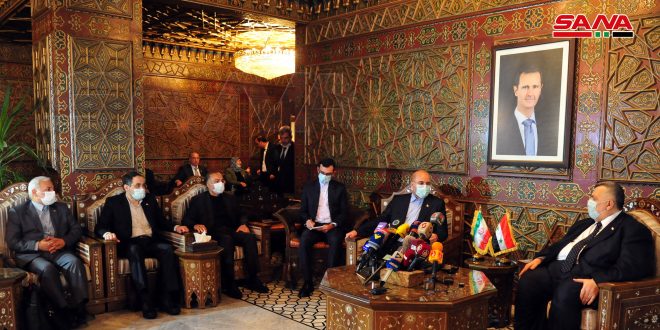 Sabbagh, in a press statement while receiving Speaker of the Islamic Shura council of Iran, Mohammad Baqer Qalibaf, upon his arrival in Damascus International Airport, welcomed the Iranian delegation, saying "As we have always been together during the days of peace, we are also together during the days of wars and blockades imposed on our two countries."
For his part, Qalibaf affirmed that the visit of Iranian delegation comes at a time when the terrorists were defeated despite all the support they have received from America and in light of the beginning of the reconstruction process in Syria.
Qalibaf congratulated the Syrian government and people on the success of the presidential election which embodied the Syrian people's loyalty to their homeland and their interest in security and stability of their country.
He stressed that all parties of the resistance axis are happy with the election success, because this axis sees Syria as a front line for the resistance.
Qalibaf arrived in Damascus heading a delegation that includes a number of members of the Islamic Shura Council on a visit that will last for several days in response to an official invitation by the People's Assembly.