Syria
Syria militants release 45 hostages after Homs deal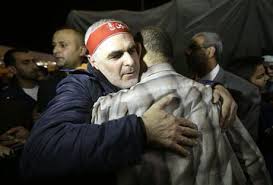 Dozens of Syrians abducted by Takfiri groups in Latakia last year have been released as part of a deal between the Syrian government and militants in the city of Homs, Press TV reports.
The recent deal between Damascus and the foreign-backed militants ended the months-long ordeal of 45 Syrian citizens who had been kidnapped by the extremist groups during an attack in the port city of Latakia last August.
Recently, two groups of the hostages, mostly from the villages in the northeastern countryside of Latakia, were released after being held by the militants for several months.
In interviews with Press TV, the released hostages recounted their ordeal during their captivity at hands of extremist kidnappers in Latakia.
"When we were in Salma, they killed some of the people who were with us," said Zeinab, a young girl among those freed, adding that the militants killed a boy from a nearby village as he tried to escape.
On May 12, a final group of foreign-backed Takfiris left the western city of Homs as part of the deal reached between Damascus and the militants on May 4.
The safe exit of militants from Homs was part of the agreement which was brokered by Iran, Russia and the United Nations.
The deal also brought almost all major districts of the city under the control of government forces. The Syrian government's talks with the militants came as part of efforts to facilitate access to the people trapped in conflict zones.
The agreement required the militants to allow aid into two northwestern towns of Kafr Nabl and al-Zahraa. The militants also agreed to release dozens of soldiers and civilians held hostage.
Syria has been gripped by deadly violence since March 2011. Over 150,000 people have reportedly been killed and millions displaced due to the violence fueled by the foreign-backed militants.