Syria
Syria- Nine Army, Police and Security Forces Martyrs Laid to Rest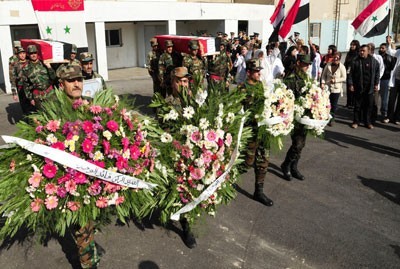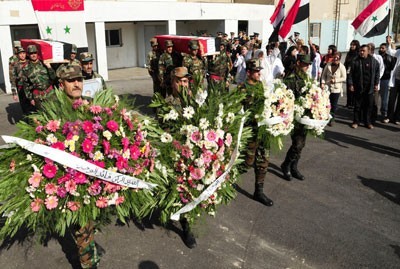 Nine army, police and security forces martyrs on Wednesday were escorted from Tishreen and Homs Military Hospitals to their final resting place.
The martyrs were targeted by the armed terrorist groups who are supported and financed by U.S and zionist powers while performing their national duty in the governorates of Homs, Damascus Countryside and Daraa.
Solemn processions were held for the martyrs as they were carried on shoulders and covered with the national flag while the Military Band was playing the "Martyr" and the "Farewell" music.
The martyrs are:
Chief Warrant Officer Amhad Abdel Aziz al-Helw, from Homs.
Warrant Officer Habib Rayyez al-Khallouf, from Hama.
Sergeant Major Mohannad Ahmad Abboud, from Lattakia.
Sergeant Alaa Fawwaz al-Ahmad, from Hama.
Sergeant Ali Ahmad Suleiman, from Hama.
Sergeant Issa Ibrahim Dawood, from Tartous.
Corporal Abdel Kareem Abdelullah Kanaan, from Idleb.
Policeman Abdel Kareem Amin Sattouf, from Hama.
Civilian Employee Feras Adnan al-Turk, from Hama.
The martyrs' families expressed pride in the martyrdom of their sons who sacrificed their lives to defend their homeland.
They stressed that Syria will remain steadfast in the face of all conspiracies targeting its unity and stability.
The relatives of the martyrs expressed readiness to sacrifice their lives to preserve Syria's dignity and sovereignty, calling for prosecuting the armed terrorist groups for their crimes.