Syria
Syria offers safe passage, retakes another neighborhood in Aleppo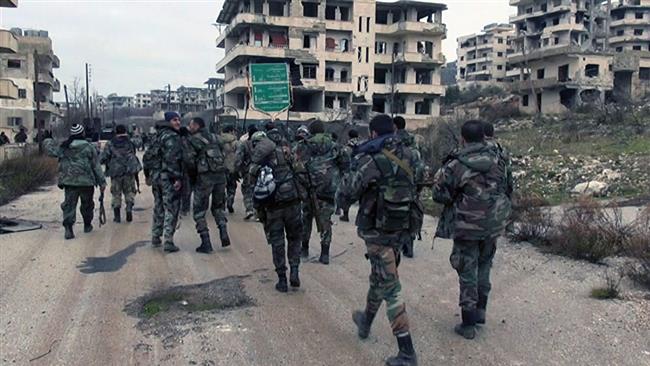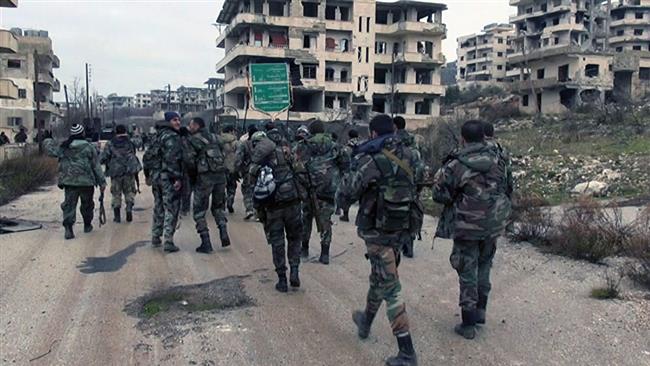 The Syrian army is opening humanitarian corridors in Aleppo to help residents leave the city where foreign-backed militants are holed up amid a government push to retake the city. 
Russian Defense Minister Sergei Shoigu said on Thursday his forces are taking part in "a large-scale humanitarian operation" in Aleppo to help residents "who had become hostages of terrorists."
Three corridors are being established for the civilians to leave after the US military did not give information on the location of what it calls "moderate" militants in the city, he said.
Russia had asked the US to give coordinates of the so-called Free Syrian Army to spare them from attacks on al-Nusra Front militants in Syria's once largest city.
Shoigu said the Russian military would therefore open a fourth corridor for militants in the north of the city and near the Castello road.
The humanitarian operation comes a day after the Syrian army cut off all supply routes through the Castello road used by militants into eastern Aleppo.
The government air-dropped leaflets there, asking residents to cooperate with the army and calling on militants to surrender. President Bashar al-Assad said he would pardon the militants who turned in their weapons.
Syrian government forces and allied troops have been tightening the noose on the main militant enclave in Aleppo since last week, urging terrorists there to surrender.
Army retakes Bani Zeid neighborhood 
On Thursday, Syrian state media said government forces took another neighborhood from terrorists in Aleppo.
The official SANA news agency said the military has taken control of the Bani Zeid neighborhood and has begun clearing landmines there. It said dozens of gunmen have laid down their weapons and surrendered in the neighborhood.
The so-called Syrian Observatory for Human Rights monitoring group, based in London, said government forces have taken command of large swaths of Bani Zeid.
Last week, Russia called on the US to disclose the location of "moderate" militants in Syria after their bases were allegedly bombed by jets near the Jordanian border.
"We are constantly calling, using all available channels, on our partners to provide information on the whereabouts of 'moderate opposition' units that they control," Russian Defense Ministry spokesman Igor Konashenkov said.
"But instead, we only hear post factum reproaches and accusations indicating that the aviation of the Russian aerospace forces should not have carried out strikes on certain areas or targets," he added.
Last month, Foreign Minister Sergei Lavrov said the US had asked Russia to stop attacking al-Nusra Front terrorists in Syria "because there is 'normal' opposition next" to the al-Qaeda-linked group.
"But that opposition must leave terrorists' positions, we long have agreed on that," he said.
In May, the US blocked Russia's bid at the UN to add Jaysh al-Islam and Ahrar al-Sham to the list of terrorist groups because of their ties to al-Qaeda and Daesh.