Syria
Syria opposition leader due in Russia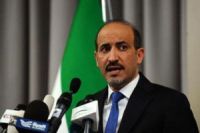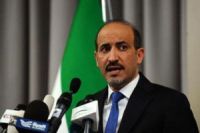 The leader of the so-called Syrian National Coalition (SNC) says he plans to visit Moscow at the invitation of Russian Foreign Minister Sergei Lavrov.
Ahmad Jarba told Kuwait's News Agency (KUNA) on Monday "I have received an invitation from Russian Foreign Minister Sergei Lavrov to visit Moscow delivered by his deputy around 20 days ago."
Jarba, who was on his first official visit to Kuwait, however gave no details about the timing of his visit.
He added that during the visit he will try to convince Russian officials to stop backing Syrian President Bashar al-Assad.
Jarba gave no indication whether the visit would take place before the upcoming Geneva II peace conference on the Syrian crisis.
Jarba said that the SNC would attend the conference under a string of conditions, including that President Assad won't have any role in Syria's political future.
George Sabra, the president of the SNC, said on Sunday that a "final decision" would be taken in mid-December by the coalition whether it will attend the Geneva II talks.