Syria
Syria: Over 120,000 Civilians Exit Terrorist-Held Regions in Eastern Ghouta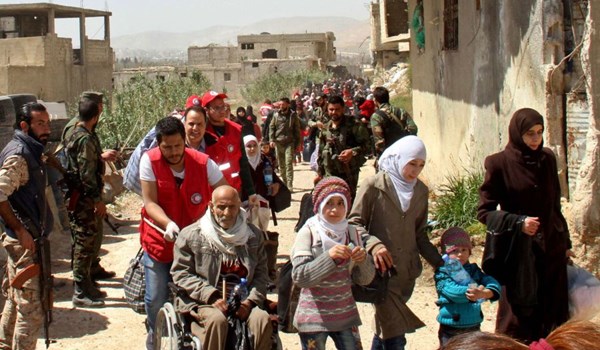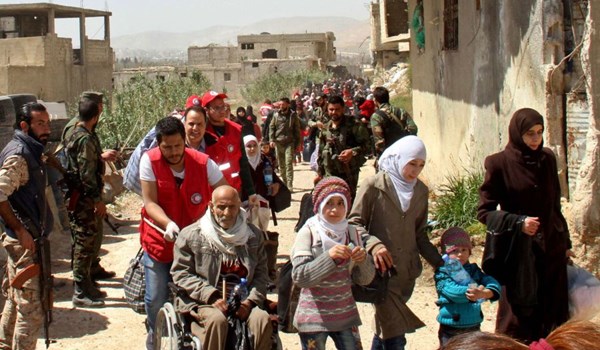 A sum of 121,000 civilians have thus far left terrorist-held regions in Eastern Ghouta for safe zones via humanitarian corridors with the assistance of the Damascus government and the Russian Reconciliation Center, Russian Permanent Representative to the UN, Vasily Nebenzya, said on Wednesday.
Nebenzya said that Russia and the Syrian government have secured the exit of 121,000  civilians from Eastern Ghouta via the safe corridors.
Nebenzya, in a session of the UN Security Council on the situation in Syria, said that hundreds of civilians were killed or injured in Damascus and its surroundings as a result of the shells fired by terrorist groups deployed in Ghouta.
The Russian Defense Ministry said on Tuesday that more than 6,700 militants and their families left Syria's Eastern Ghouta region near Damascus via a humanitarian corridor on Monday, adding that they were transported to Idlib province.
"On the basis of an earlier agreement signed by senior officials of the Russian center for Syrian reconciliation and leaders of the Faylaq al-Rahman group, militants continued to withdraw from the settlement of Arbin (Eastern Ghouta) on March 26, and a sum of 6,749 militants and members of their families left the area through the organized humanitarian corridor and were transported by 110 buses to the province of Idlib," the ministry's statement read.
The total number of militants and their families, who have left Arbin in the past three days, reached 13,190 people, the ministry added.
Furthermore, as a result of the agreements reached by the Russian reconciliation center with the leaders of the militant groups, 26 illegally detained Syrian servicemen and civilians, who were held captive by the Faylaq al-Rahman group, were released on Monday, according to the statement.