Syria
Syria: Over 2,000 Terrorists, Families Leave Wadi Al-Bardi for Idlib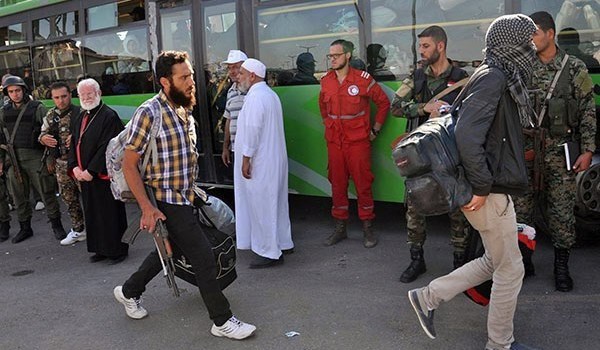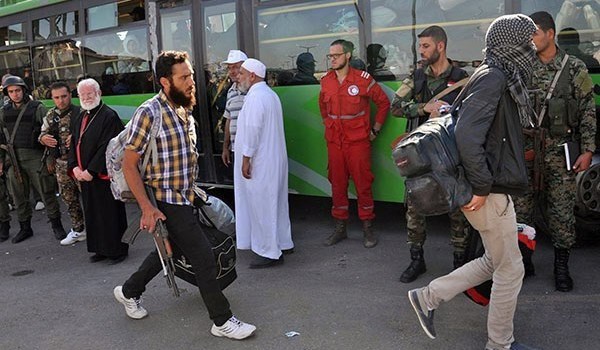 Damascus Governor General Ala Ibrahim said that over 40 buses evacuated over 2,000 militants and their family members from Wadi al-Bardi region in Western Ghouta.
Ibrahim said that over 2,150 militants and their family members left Wadi al-Bardi region for militant-held regions in Idlib, adding those militants that had applied for government pardoning have received amnesty.
He went on to say that simultaneous with the evacuation of militants, water facilities in the village of Ein al-Fijeh were fixed and drinking water was pumped to citizens in Damascus.
Meantime, the Arabic language Elam al-Harbi news website reported that evacuation operation of the militants from Wadi al-Bardi has been terminated and evacuation of 200 more militants in al-Jaroud region and also another 250 in Sarqaya region has been delayed due to snowy weather; "but they will leave their regions for Idlib in next few days".
The General Command of Syria's Armed Forces announced on Monday that the country's soldiers and popular forces restored sustainable security and stability to the towns and villages in Wadi al-Bardi region in Western Ghouta after a series of successful anti-terrorism operations.
The General Command said in a statement that the military operations in Wadi al-Bardi took place in a complex geographical region with the ultimate caution to avoid civilian casualties.
The statement pointed out that the army's operations contributed to establishing favorable conditions for the achievement of reconciliation agreements in a number of villages and towns, including Basimeh, Ein al-Khadra, Deir Muqren, Ein al-Fijeh, Deir Qanoun, Kafr al-Zita, al-Hosseiniyeh, Kafr al-Awamid, Birhalia, Afra and Wadi Bardi Souq.
According to the Armed Forces' General Command, some 400 sq/km of land was set free in Wadi al-Bardi region.
The General Command reaffirmed in the statement its determination to continue carrying out its national mission of fighting terrorism, expressing its appreciation for the sincere efforts made by several national figures and forces that contributed to the restoration of security to Wadi al-Bardi.