Syria
Syria Presidential Campaign Starts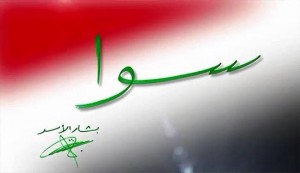 Campaigning started Sunday for Syria's June 3 presidential election expected to return Bashar al-Assad to power, after the government achieved a victory in the city of Homs.
In Damascus, campaign posters lauding Assad hung on shopping streets and in public gardens, in the run-up to the multi-candidate presidential vote.
President Assad faces two competitors, both largely unknown, who qualified from a pool of 23 who sought to run against Assad.The word "Sawa" in Arabic means together, the solgan of President Assad's campaign
Maher Abdel Hafiz Hajjar is an independent MP and former communist party member from the country's second city Aleppo, and Hassan Abdullah al-Nuri is a Damascus businessman who was a member of the internal opposition tolerated by the government.
In the capital, a few posters for Nuri's campaign could be seen, calling for a "battle against corruption" as well as a "free economy" and the "return of the middle class."
His campaign reels have also aired on state television.
But Assad's campaign posters dominate the landscape, with dozens showing the Syrian flag overlaid with the word "together" and his signature.
Assad's campaign has also began online, under the slogan "Together," with Facebook, Twitter, YouTube and Instagram accounts all set up to promote his run.
The Facebook account had garnered 65,000 likes by Sunday morning, and the Twitter account nearly 1,000 followers.
The campaigning begins just days after Assad's government achieved victory in the central city of Homs, where it retook the Old City after a deal granting insurgents there safe passage out.
AFP