Syria
Syria: Ranking Army Officer Denies Terrorists' Control over Khan Touman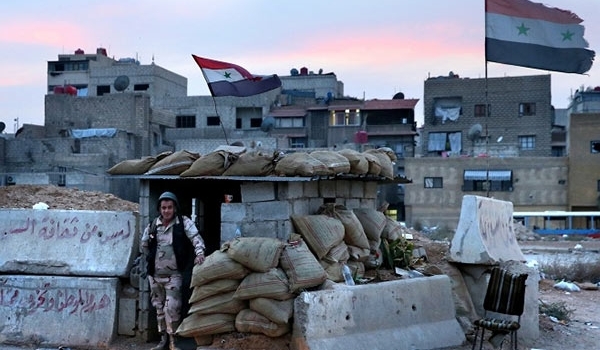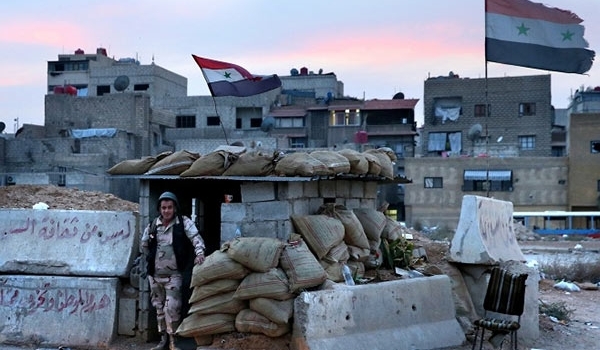 Syrian army officer and military analyst Mohammad Kamal al-Jafa, who is also a member of Aleppo operations room, rejected reports claiming that the terrorists have gained full control over the strategic town of Khan Touman.
"What has happened in Khan Touman in Aleppo province is a failure not only for the terrorist groups but also for their supporters in Ankara and Riyadh which had invested a lot in their offensive, but to no avail," al-Jafa told FNA on Saturday.
Noting that the Syrian army and its allies are still in control of strategic and important regions, including arms depots and fuel stations, he said they are strengthening defensive belt around the town from the Southwest which is under the continued attacks of the terrorists.
Jafa also strongly rejected reports on terrorists' full control over Khan Touman as baseless and psychological warfare.
Terrorists claims capturing Khan Touman in Aleppo province, but the Syrian army denies the claim, stressing that clashes still continue in the strategic town.
The Syrian Army alongside the National Defense Forces and Hezbollah fighters regained full control over the town of Khan Touman in December. Ever since then the city has fallen back to the terrorists twice, with the second time being this weekend.
Following an unsuccessful truce that was repeatedly violated by the terrorist groups, the Al-Nusra Front – the Syria arm of the Al-Qaeda terrorist group – could relocate some 20,000 terrorists to Northern Aleppo via Turkey's soil to launch a large-scale attack on pro-government positions in several key cities in Aleppo province, including Khan Touman in the Southwest.
The Al-Nusra and units of the Free Syrian Army (FSA) claim to have taken back Khan Touman, but government forces say they are still in charge of key centers and blocks in the town.
In a recent development on Friday, the Syrian army troops and popular forces fended off Jeish al-Fatah's attacks on the government forces' positions near Khan Touman, and forced them to retreat from the battlefield under their heavy fire.
The Turkish-backed Jeish al-Fatah stormed the pro-government forces' strongholds near Khan Touman village 15 km to the South of Aleppo, but the strong defense of the Syrian army and popular forces did not allow the terrorists to break through the army's positions.
The offensive came hours after Russia and the United States brokered a 48-hour ceasefire in Aleppo and its outskirts, which was officially approved by the General Command of the Army and Armed Forces.
Reports said on Wednesday that at least 146 civilians were killed and over 1,103 others wounded in terrorist groups' brutal shelling of residential areas, hospitals and shopping centers across the Northern city of Aleppo in the last 10 days.