Syria
Syria rebels claim huge Idlib base blast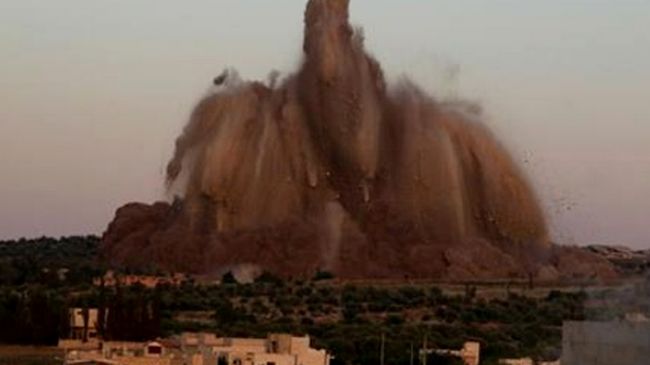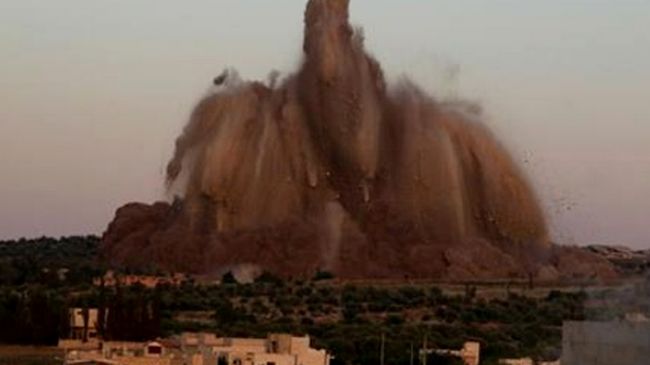 Syria's foreign-backed insurgents have released video footage of a huge explosion, claiming that they packed 60 tons of explosives underneath a Syrian military base in Idlib province to blow it up.
An unidentified commander of al-Qaeda-linked terrorist group called "Islamic Front" said on Thursday that his brigade dug an 850-meter tunnel underneath Wadi al-Deif base, which he claims is surrounded by militants but has remained in the control of Syrian army since the insurgency war in the country began over three years ago, according to a Reuters report.
However, there has been no confirmation of the blast and the number of casualties by the Syrian government or any independent sources.
The footage provided by the supposed insurgent commander showed the ground balloon up before breaking into a cloud of earth that engulfs the area.
The commander, who spoke on condition of anonymity, said via Skype that he did not know how many government soldiers had been killed but claimed that it would help the militants to break into the base, which is situated in Syria's northwest bordering Turkey.
The development comes as senior Syrian government officials have repeatedly charged that Turkish authorities have facilitated the intrusion of armed insurgents into Syria as well as their military assaults on towns and villages near the border.
Despite the persisting insurgency, war and the massive carnage inflicted on some parts of the country by the foreign-backed militants, Syria plans to hold a presidential election early next.