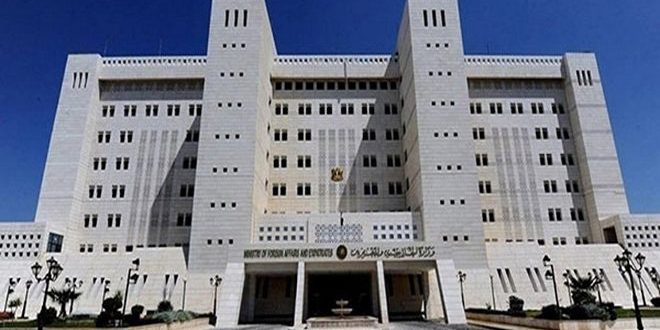 The Syrian Foreign Ministry issued a statement on Friday that rejected the U.S.-Turkish discussions about implementing a safe zone in northern Syria.
An official source in the Foreign and Expatriates Ministry told SANA in a statement on Friday that "Syria expresses strong condemnation of the continued destructive U.S. interference in its affairs as it aims at prolonging and complicating the crisis."
The source added that Syria reiterated itscategorical rejection of all forms of the U.S.-Turkish safe zone, which constitutes a blatant aggression on Syria's territorial integrity and national unity.
The source added that the pretexts beingpromoted by the Turkish regime in itsaggression on Syria under the disguise of protecting its national security are disprovedby the behaviors and policies of this regime, which has been the fundamental base forterrorism.
"Syria, which has been confronting all forms of terrorism for eight years, reaffirms thecontinued efforts to chase down the remnants of terrorism until it is completely eradicatedfrom all Syrian territories along with the efforts exerted to confront all the separatistpropositions, which threaten Syria's sovereignty and territorial integrity," the sourcecontinued to say.