Syria
Syria: Second Convoy of Militants Leave Key District in Homs City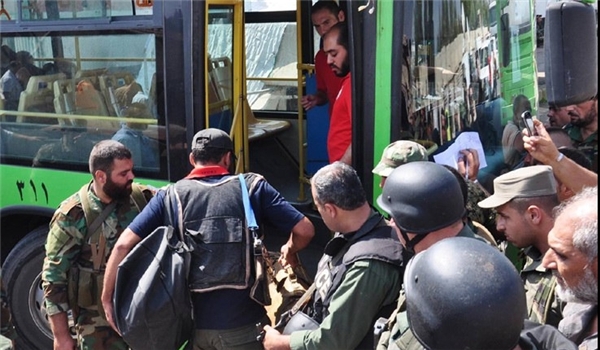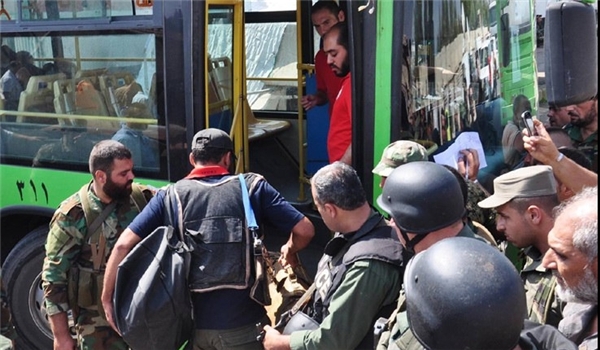 A 120-member group of terrorists, mostly injured ones, left their positions in Homs and moved towards the Northern territories of the province alongside their family members.
It was the second convoy of militants, who were evacuated from al-Wa'ar district and were transferred to Dar al-Kabireh in Northern Homs.
There is no confirmed report showing whether the entire terrorist have left al-Wa'ar or their will yet be another convoy to leave the town.
Earlier reports said that tens of militants stationed in al-Wa'ar region of Homs province surrendered themselves and their weapons to the Syrian authorities to return to normal life as the soldiers of President Bashar al-Assad continue to recapture more regions across the country.
Nearly 40 militants surrendered to the government troops within the framework of the nationwide reconciliation plan.
Also efforts to evacuate the second group of terrorists from al-Wa'ar are underway in Homs as media sources reported that 5 buses are to take them.
Reconciliation talks are still underway between the governmental officials and the militants' commanders and it is not yet known if all terrorists will leave the region along with their families or a number of them will remain to be evacuated in the final stages of the plan.
The latest reports from al-Wa'ar said that 120 militants, accompanied by their families, were evacuated from the region on Thursday to the Northern parts of the province as a result of an agreement with the government.
Tallal al-Barazi, the governor-general of Homs, said that negotiations have been held between the two Syrian sides without any foreign interference to reach an agreement for reestablishment of security and stability in different regions.
He added that non-participation of the UN representative in the reconciliation plans and supporting the Syrian-Syrian talks is unconstructive and surprising.