Syria
Syria: Several Terrorist Commanders, Comrades Killed in Homs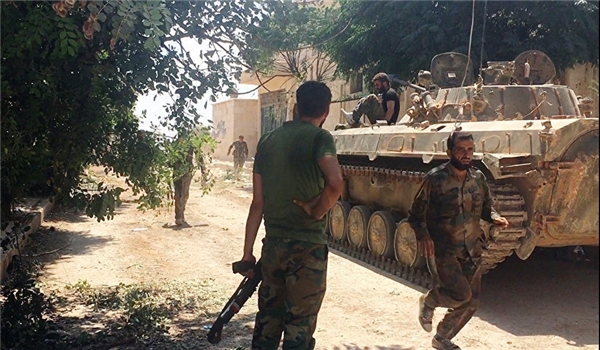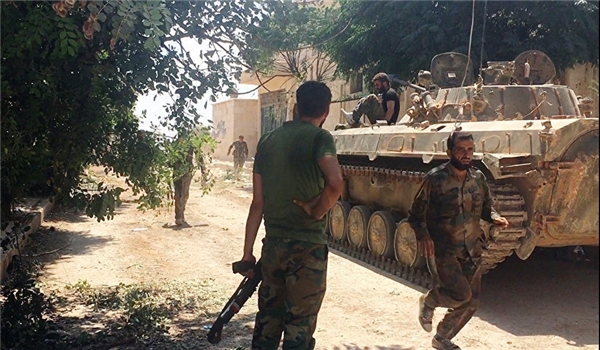 The Syrian army's large-scale operations in Homs killed several terrorist leaders and their comrades and blew up their military vehicles and bases.
The Syrian army units targeted the terrorists' bases in al-Rastan town which killed a number of militants, including the head of Faylaq al-Homs military office and the commander of the group's operations room in Northern Homs, named Shouqi Ayyoub.
Also, a commander of Ahrar al-Sham terrorist group, called Faisal al-Awaz, and a number of other militants were killed in the army's special operations in Ain Hossein village near Talbiseh in the Northern parts of Homs.
The Syrian forces also attacked the Ahrar al-Sham gathering centers in al-Sa'an region in Northern Homs which destroyed two of their military vehicles and killed tens of militants, including their commander, Ahmad al-Shahleh.
The army also repelled the militants' attacks on the terrorists who sought to take al-Mashreqah village in Northeastern Homs, killing and wounding tens of terrorists and destroying their military vehicles.
The Syrian air force also bombed the ISIL terrorists' positions near al-Sha'er oil field near Tadmur (Palmyra) and the two villages of Rahoum and Um al-Rish as well as the Northern parts of Abu al-Alaya in the Eastern parts of Homs city which smashed several vehicles and bases of the terrorist group and inflicted tolls on the militants.
On Wednesday, the Syrian army troops and National Defense Forces had repelled the ISIL's offensive on their defense lines in al-Maher oilfield in Eastern Homs, inflicting several casualties on the terrorists.
The Syrian government forces fended of ISIL's attack to recapture the position they had lost in the battles of the last several days.
The ISIL terrorists suffered a number of casualties in the failed attack.
Meantime, Syrian fighter jets pounded ISIL's centers in Arak oilfield and its nearby areas, near the town of al-Sukhnah and in the village of al-Tibeh in Eastern Homs.
Syrian army men also clashed with terrorist groups of Fatah al-Sham Front (formerly known as the al-Nusra Front), Ahrar al-Sham and Rejalollah near the town of al-Rastan blocking their invasion.