Syria
Syria: Terrorists Suffer Heavy Casualties in Various Areas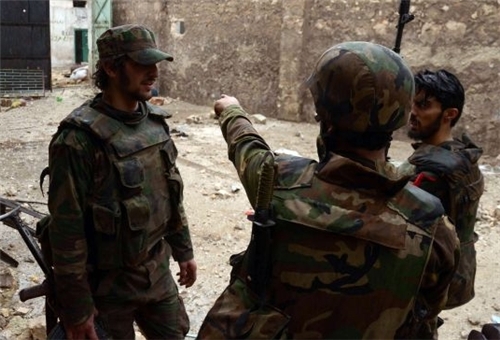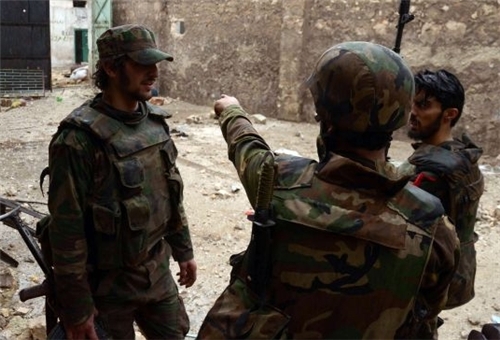 Syrian army units on Wednesday killed a number of militants and injured others in different areas, including several non-Syrian terrorists.
Al-Nusra Front-linked terrorists killed in Idlib
Army units carried out a series of special operations in various towns and villages in Idlib in which numbers of al-Nusra Front-linked terrorists were killed and injured.
SANA quoted a military source as saying that big numbers of terrorists were killed during operations that targeted their dens in the areas of al-Tibeh, al-Qadiriyeh, Kafr Oweid, Kansafreh, Jabal al-Arbaeen, M'arshourin, Saraqeb and Maaret al-Numan.
One of al-Nusra Front leaders in the area, who is nicknamed Abo Bakr, was identified among the dead, according to the source.
The source added that army units eliminated terrorist groups in the villages of al-Daer, al-Mistariha and al-Majas, while other units destroyed two vehicles loaded with the weapons and ammunition in Tal Salmo village in Abo al-Zuhour.
Militants, including non-Syrians, killed in Daraa countryside
Army units destroyed armed rebel groups' hideouts in the villages of Tal al-Samn, al-Teira and Tafas in Daraa countryside, killing and injuring a number of militants, among them militants from Jordan and Saudi Arabia.
A military source said that the Saudi Abdullah Fahd Dousi al-Dbeikhi and the Jordanian Talal Ahmad Musaed al-Ajrami were identified among the dead, in addition to militants Raed al-Masri, Amjad Ali al-Sayyed, Ghaldoun al-Hariri, Akram Mohammad al-Hashish and Qutaiba al-Shiblaq.
Militants killed, weapons destroyed in Damascus Countryside
Meanwhile, Members of armed rebel groups were killed in a number of operations in Qara area, near Yabroud roundabouts and al-Saqi street in al-Nabek in Damascus Countryside.
A military source said that the militants' weapons, ammunition and vehicles were destroyed in the operations.
Security restored to towns in Damascus Countryside
A military source said that the army restored security and stability to the areas of al-Husseinyeh and al-Dyabyeh in Damascus Countryside.
In a statement to the news agency, the source said that the army eliminated the last of the terrorists' gatherings and hideouts in these areas, adding that large numbers of terrorists were arrested and their weapons and ammunition were confiscated.
Army destroy large number of militants' vehicles in Hasaka
A military source said that army units carried out a special operation against a gathering of militants' vehicles in Aliya area West of Tal Tamr in Hasaka province, resulting in the destruction of over 100 vehicles, the elimination of a large number of militants, and preventing militants from robbing grain silos and smuggling their contents to Turkey.