Syria
Syria to meet Chemical weapons deadline: UN chief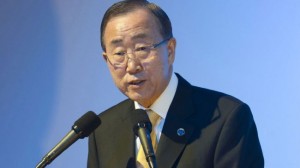 United Nations Secretary-General Ban Ki-moon has said Syria is likely to meet the deadline in dismantling its chemical arsenal.
"The functional destruction of the declared capacity of the Syrian Arab Republic is expected to be completed as planned by November 1," AFP quoted the UN chief as saying on Monday.
A team of experts from the Hague-based Organization for the Prohibition of Chemical Weapons (OPCW) and the UN is in Syria to implement a UN resolution on scrapping the Syrian chemical arsenal. The United Nations Security Council approved the resolution on September 27.
The team has until November 1 to inspect the chemical weapons arsenal declared by the Syrian government and keep a tab on the destruction of the related facilities.
The OPCW said in a statement issued on Sunday that Syria had submitted a detailed plan to destroy its chemical weapons arsenal.
It provided "the basis on which plans are devised for a systematic, total and verified destruction of declared chemical weapons and production facilities", the group said.
On October 22, Sigrid Kaag, the head of the joint OPCW and UN team said, "To date, the government of Syria has fully cooperated in supporting the work of the advance team and the OPCW-UN joint mission… There is continuous strong cooperation which the Secretary General and the Director General of the OPCW have also confirmed in recent statements."
On September 14, Russia and the United States agreed on a deal according to which Syria would have its chemical weapons eliminated and the US would in return not carry out planned strikes on the Arab country.
The war rhetoric against Syria intensified after foreign-backed opposition forces accused the government of President Bashar al-Assad of launching a chemical attack on militant strongholds in the suburbs of Damascus on August 21.
Damascus has vehemently denied the accusations, saying the attack was carried out by the militants themselves as a false-flag operation.
Syria has been gripped by deadly unrest since 2011. According to reports, the Western powers and their regional allies — especially Qatar, Saudi Arabia, and Turkey — are supporting the militants operating inside Syria.
According to the UN, more than 100,000 people have been killed and a total of 7.8 million others displaced due to the violence.