Middle East
Syria
Turkey
Syria: Turkish offensive anchored in Erdogan's expansionist illusions
The Syrian government has strongly condemned the ongoing ground offensive by Turkish soldiers and allied Takfiri militants against Kurdish forces in the northern part of the war-battered Arab country, saying the military operation has its roots in the "expansionist ambitions and illusions" of Turkish President Recep Tayyip Erdogan's administration.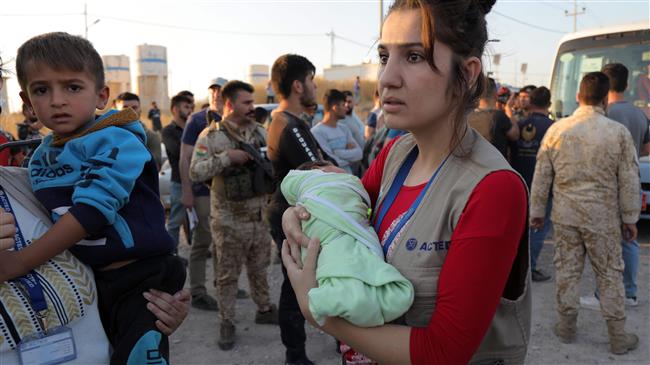 "Despite widespread international condemnation, Erdogan's regime still insists on its naked aggression towards Syria, and wreaks death and destruction through gross violation of all international regulations and principles in a way that clearly exposes the real face of Erdogan's fascist regime," an unnamed official source at the Syrian Ministry of Foreign Affairs and Expatriates told Syria's official news agency SANA in a statement on Thursday.
Foreign Ministry: Turkish aggression is outcome of expansionist ambitions of Erdogan's regime https://t.co/uShLfhh6EP pic.twitter.com/KzH2AGqNvN— SANAEnglishOfficial (@SANAEnOfficial) October 17, 2019
The source added, "This treacherous Turkish aggression is the outcome of the expansionist ambitions and illusions of Erdogan's regime, and it affirms that the regime is classified among terrorist groups to which it has provided all forms of support. The offensive deals a heavy blow to the efforts aimed at finding a solution to the crisis in Syria. It makes, therefore, the Turkish regime lose its position as a guarantor of the Astana peace process as its aggression completely contradicts the principles and decisions of the process."
The Syrian Foreign Ministry source reaffirmed his country's "complete rejection and strong condemnation of the blatant Turkish aggression and interference in Syria's domestic affairs," saying that Damascus also "asserts the solidarity and unity of the Syrian nation under the aegis of the national flag to confront the Turkish aggression, preserve Syria's sovereignty and territorial integrity, and prevent others from interfering in Syria's internal affairs."
Syrian government forces enter Kurdish city of KobaniSyrian government troops, accompanied by Russian forces, have entered the Kurdish-inhibited city of Kobani amid Turkey's military offensive in northeast Syria.
"The entire international community should assume the responsibility to pressure Erdogan's regime to put an end to its aggression on Syria, hold it fully to account for potential repercussions, and to force the Turkish regime to abandon its destructive policies, which pose a threat to regional and global security, peace and stability," the source concluded.