Syria
Syria UN envoy calls for lifting of sanctions amid COVID-19 outbreak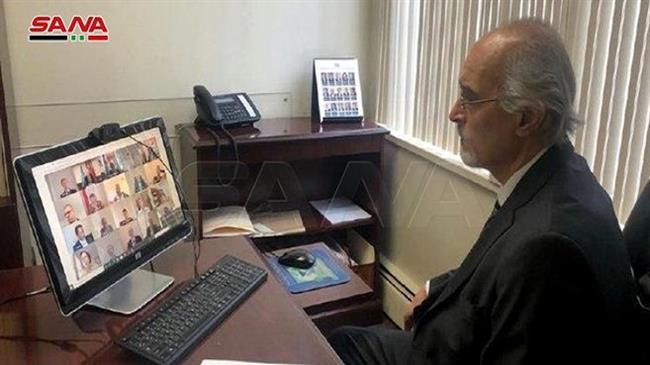 Syria's Ambassador to the United Nations Bashar al-Ja'afari has called upon the international community to work on lifting illegal economic sanctions and coercive measures imposed on his war-ravaged country and other states as the world is battling to rein in a deadly coronavirus pandemic.
Speaking at a UN Security Council session on the situation in Syria via video, Ja'afari strongly condemned sanctions as a weapon in the hands of some states in their sinful war against Syria and those states, stressing that the punitive measures prevent the Syrian nation and the country's healthcare sector from obtaining their basic needs to deal with possible cases of new coronavirus infection and treat the confirmed patients.
He then criticized the hypocrisy and double standards being exercised by a number of parties vis-à-vis the humanitarian situation in Syria and those states.
China to UN: Unilateral Syria sanctions must be lifted amid pandemic
China has called for the immediate lifting of unilateral sanctions against Syria, saying the bans will hinder the conflict-stricken country's efforts to fight the COVID-19 pandemic.
"Insistence on such unjust and coercive measures violate the international law, the Charter of the United Nations and human rights principles," the senior Syrian diplomat commented, urging UN Secretary-General Antonio Guterres to request the immediate and complete lifting of the sanctions after the ambassadors from China, Cuba, North Korea, Iran, Nicaragua, Russia, Syria and Venezuela asked him to "reject the politicization" of the coronavirus pandemic to enable the nations to respond to the matter.
8 countries write to UN chief to demand lifting of unilateral sanctions amid pandemic
Eight countries call on the United Nations chief to ask for the lifting of unilateral sanctions on various countries that are hindering the global fight against the new coronavirus.
Ja'afari went on to say that the Damascus government has recently received several high-ranking officials from international humanitarian organizations, including the Executive Director of the UN World Food Program, David Paisley, and the President of the International Committee of the Red Cross, Peter Maurer.
He said the talks with them were positive and stressed the need for joint and consistent cooperation and non politicization of humanitarian actions.
The diplomat emphasized Syria's willingness for a mechanism to provide all Syrians with the aid they deserve and to prevent terrorists from gaining access to them.
The Syrian UN envoy further highlighted that the Damascus government has on occasions censured the crimes being perpetrated by Turkish military forces and their allied Takfiri militants in northern Syria, and demanded pressure on Turkish troops and their proxies to let internally displaced people in some areas of Idlib return to their homes.