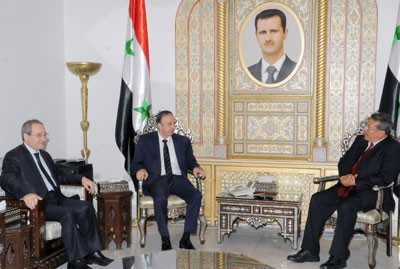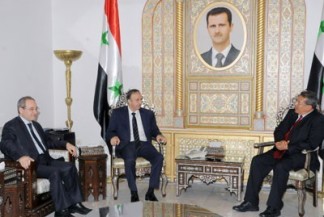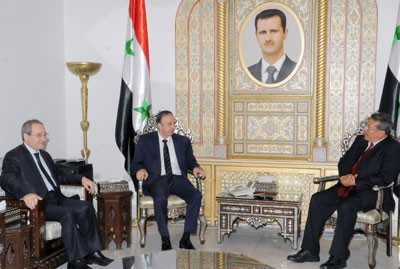 Speaker of the People's Assembly Mohammad Jihad al-Laham said that the Syrians are determined to defeat the Zionist, imperialist projects aiming at targeting Syria sovereignty and unity.
"It is very important to unify the stances of Syria and Venezuela at the international circles to face the international terrorism and support the just issues of peoples," al-Laham said during a meeting with Venezuelan National Assembly Member Saul Ortega.
He referred to the importance of getting acquaintance with what is really going on in Syria and covey a true image of the events to the Venezuelan friendly people.
"The Syrian people are struggling against the powers of international imperialism in order to preserve Syria sovereignty and independence as the victory of Syria is an important matter to Venezuela," Ortega said.
In a similar meeting with Ortega, Deputy Foreign and Expatriates Minister, Fayssal Mekdad, stressed on Tuesday the importance of popular and parliamentarian diplomacy in communicating among peoples and the role of parliamentarians in conveying the true image through direct communication with their peoples.
For his part, MP Otega stressed Venezuela's support to Syria, hailing its steadfastness in face of the pressure facing it.
He expressed confidence that Syria will eventually win against the conspiracies targeting the region.
Otega lauded the unity of the Syrian people in face of the western conspiracy which aims at subjugating Syria and facilitating the U.S.-Israeli hegemony on the region.
Dr. Mekdad expressed Syria's appreciation of the fraternal and firm stance of Venezuela which stood by the Syrian people during the difficult circumstances.
He highlighted the friendship relations which were established by President Bashar al-Assad and late President Hugo Chavez and will continue with President Nicolas Maduro.
The Deputy Foreign and Expatriates Minister reviewed the circumstances going on in Syria and the latest developments and Syria's vision for solution according to the political program announced by President Bashar al-Assad early this year .
He stressed that Syria's victory will be a victory for all those committed to their countries' sovereignty and independence.