Syria
Syria will respond to any initiative to solve crisis through talks: PM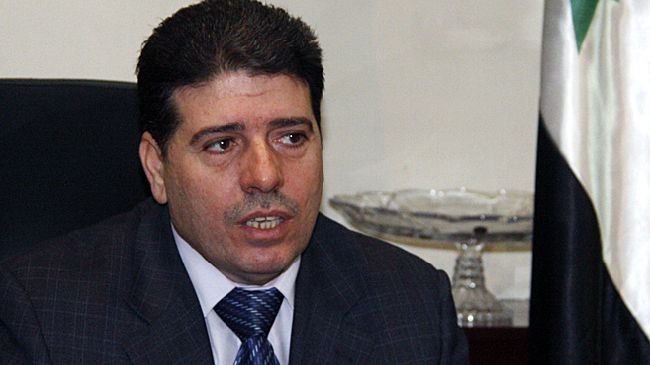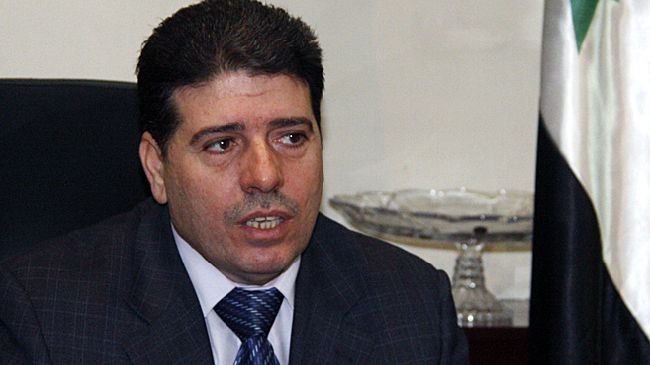 Syrian Prime Minister Wael Nader al-Halqi says Damascus will respond to any initiative meant to resolve the turmoil in Syria through dialogue.
"The government is working to support the national reconciliation project and will respond to any regional or international initiative that would solve the current crisis through dialogue and peaceful means and prevent foreign intervention in Syria's internal affairs," Halqi said on Monday.
The remarks came after UN-Arab League Special Representative for Syria Lakhdar Brahimi said he had a peace plan acceptable to all sides.
On Sunday, Brahimi said he had crafted a new initiative that "could be adopted by the international community."
The veteran Algerian diplomat, however, did not elaborate fully on his proposal but said he had discussed it with Russia and Syria, and that it was a political solution based on the agreements reached in Geneva in June.
On June 30, foreign ministers from Britain, China, France, Russia, and several other countries, and the US secretary of state held a meeting in Geneva to discuss the unrest in Syria.
Former UN-Arab League envoy to Syria Kofi Annan, who had convened the meeting, said the participants agreed on a transitional governing body in Syria that "could include members of the present government and the opposition and other groups, and shall be formed on the basis of mutual consent."
The Syrian premier also emphasized that the conflict must be resolved only by the Syrian people "without external pressures or decrees."
Syria is "moving toward a historic moment when it will declare victory over its enemies, with the goal of positioning Syria to build a new world order that promotes national sovereignty and the concept of international law," Halqi stated.
Many people, including large numbers of security forces, have been killed in the turmoil that began in Syria in March 2011. The Syrian government says the chaos is being orchestrated from outside.