Syria
Syria- Zionists-backed Terrorists' infiltration attempt from Lebanon foiled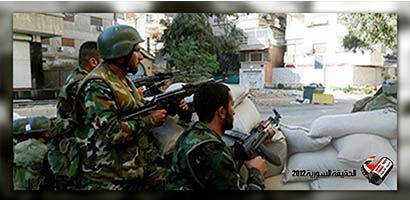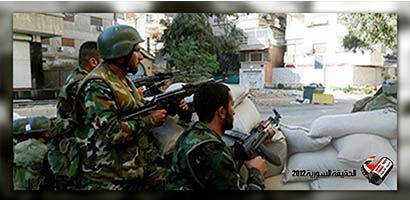 Units of the armed forces killed and injured several terrorists in several towns and neighborhoods in Homs and repelled an armed terrorist group's attempt to infiltrate from the Lebanese territory near Talkalkh, inflicting heavy losses upon them.
An official source told SANA that the army units killed a number of terrorists in BabHood, Joret al-Shayah, al-Qusour, al-Khalidiyeh, al-Warsha, al-Hamidiyeh, al-Karabis and al-Masabigh neighborhoods in Homs and destroyed their weapons and equipment.
The source added that an army unit, in cooperation with the border guards, foiled terrorists' attempt to infiltrate from the Lebanese territory through Hallat site in Talkalkh countryside, killing and injuring scores of terrorists.
The source pointed out that another army unit destroyed terrorists' mortar, weapons and ammunition inside their dens near al-Syriac cemetery in al-Rastan and in al-Zara farms, al-Mashjar al-Janoubi, Khirbet Deir Slam, al-Sam'alil and al-Naseriyeh in Homs countryside.
Ahmad Khaled Kahwaji was identified among the dead.
Meanwhile, another army unit foiled terrorists' attempt to detonate two explosive devices, one of them weighs 150 Kg, near Oum al-Dababir village on Homs-Palmyra road.