Syria
Syrian Army's operations kill leaders and members of al-Qaeda and "Free Army"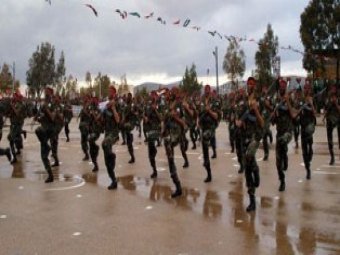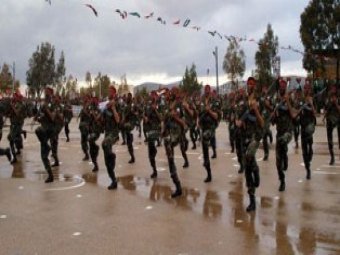 Syrian Army has carried out today's morning Friday 17 May a series of operations against the militants of al-Qaeda in Edlib countryside. As the army has stroke headquarters of the "Free Army" gunmen in Damascus countryside.
The Libyan fighter Abu al-Hareth al-Shami has been killed after clashes that took place between the army and insurgents around the city of Edlib at the checkpoint of Jedar Bkafloun.
As the Syrian Army encountered to a severe attack launched by "Free Army" militia on the airport of Abu al-Duhur frok the side of Tel Salmou d Um Jreen, while the army carried out a series of operations against the armed men in 10 positions surrounding the very airport.
The army carried out a series of operations against militants in spots of Ma'art al-Nouman, what led to killing dozens, including the leader Ahmad Adnan al-Khatib.
Breaking News Network correspondent pointed out that the army has hit a headquarter belonging to al-Qaeda in the city of Salqin near the borders of Turkey, killing 10 elements of "Islamic Front".
Syrian Army's operations are ongoing
The army has carried out a series of operations today's morning against the gunemen in many towns of Damascus countryside killing dangerous commanders of the insurgents.
Our reporter noted that the dangerous leader Wesam Muma and another nicknamed as al-Hoot (whale) have been killed following an operation of SAA in the neighborhood of Barzeh al-Balad, in addition to tens if insurgents deployed in the neighborhood.
Our envoy added that the army carried out an operation in Tel Kurdi farms in Duma, killing dozens of gunmen, including the leader Samer Majeed, in addition to an operation carried out by the army in Harasta, led to deaths and the dismantling of seven explosive charges planted by militants near al-Iman mosque.
In the town of al-Mleiha the army has killed a number of gunmen, including Mahmoud Jossani, Mohammad Arano'ot, in addition to a fighting occurred between insurgents in Hoosh al-Zwahra town, killing Abu Fahed and Khalil Taha.