Syria
Syrian Armed Forces Arrest Terrorists in Homs, Seize Their Weapons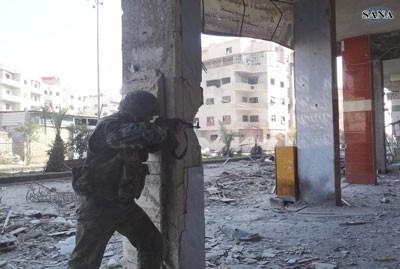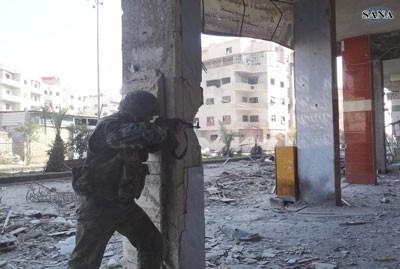 Units of the Armed Forces on Monday seized amounts of weapons, ammunition and sophisticated communication devices in Deir B'albeh in Homs.
An official source told SANA reporter that the seized weapons included 43 mortar rounds, 465 shotguns of DShK machinegun, 1085 shotguns of PKC machinegun, 7 grenades, 5 TGB bombs, 6 RPG launchers, 120 shots of 14.5 mm machinegun in addition to sophisticated communication devices and a field hospital.
The source added that various weapons and munitions were also seized in Hessyeh city in Homs countryside and arrested a number of terrorists including Khalid Hasson al-Jal'ot nicknamed Abi al-Shanakel, the leader of an armed terrorist group called "Battalion of Ahrar Hessyeh", Ibrahim al-Homsi, Sanad Marwan al-Roweli, Mohammad Dib, Hayan al-Ali and Mustafa Dib.
An army unit destroyed a Mortar and a locally-made platform with 4 rockets mantled on it and targeted a terrorists' gathering in al-Nasyra area in Taldo, Homs countryside.
A source in the province told SANA that among the killed terrorists were Farouq Bakkour, the leader of a terrorist group, Jihad Salem Othman, Hasssan al-Shindyeh and Majed al-Yousef.
Terrorists Detonate Gas Transfer Pipeline in Deir Ezzor
An armed terrorist group on Sunday detonated with an explosive device al-Jbesieh gas pipeline extending from al-Jbesieh Gas Factory to Homs near Joweif gas well, north of Deir Ezzor city, causing the leakage of about 1.5 million cubic meters of gas and the stoppage of its production.
SANA reporter quoted an official source at the Ministry of Petroleum and Mineral Resources as saying that al-Jbesieh Gas Factory feeds the fertilizers factory and the electricity generating plants, adding that workshops will start the repair works to restore the pipeline in the next few days.
The source pointed out that the armed terrorist groups hinder the work of the workshops which try to repair al-Tabieh gas pipeline that was targeted by terrorist in al-Mrai'ieh area in Deir Ezzor on December 23
Armed Forces Eliminate Scores of Terrorists in Hama
The Armed Forces inflicted heavy losses upon terrorists who tried to attack a law-enforcement post near the town of al-Mubarakat in Hama countryside.
SANA reporter was informed by an official source that weapons and ammunition were confiscated, adding that terrorists Khaled Ahmad al-Klaib and Khaled Mahmoud al-Khaled were identified among the dead.
Meanwhile, renovation and rehabilitation works continued in Morek town in Hama as citizens started to return to their town after being cleared form terrorists.