Syria
Syrian Army Advances in Daraa, Destroys ISIL Launcher in Daraa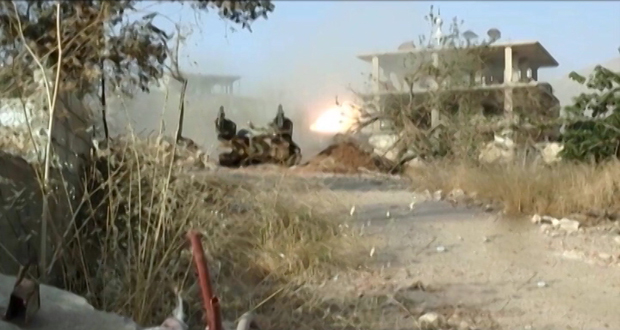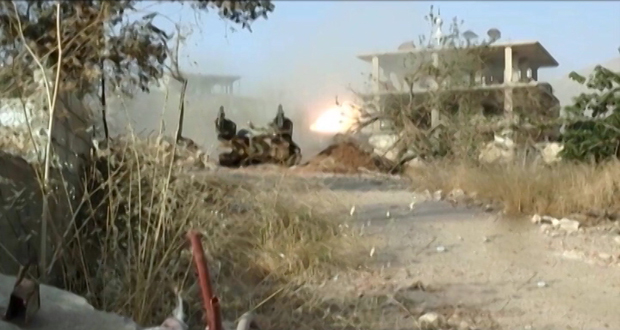 More terrorists were killed and their vehicles were destroyed in the army operations against their gatherings, dens and movements across the country, state-run SANA news agency reported.
In Daraa, an army unit killed 8 terrorists and destroyed one of their ammunition- loaded vehicles in al-Abazid neighborhood in the southern Daraa city, a military source told SANA on Tuesday.
Another army unit thwarted terrorist group's attempt to infiltrate from al-Bajabjeh neighborhood towards Sajna neighborhood in Daraa al-Balad, killing and injuring all of its members.
A vehicle with all terrorists and arms onboard was destroyed in army operation, west of the old Customs building in Daraa al-Balad neighborhood.
Army unit targeted al-Nusra Front terrorists south east of Ghazaleh Bridge in the northeastern countryside of Daraa province, killing a number of them and destroy their weaponry and vehicles.
In Sweida, an army unit destroyed a mortar launcher for the so-called 'Islamic State of Iraq and the Levant' (ISIL) takfiri organization and killed a number of its members in Kherbet Sa'ad in the northeastern countryside of Sweida province.
Army units targeted the terrorists' gatherings and movements' axis in the hills of Thalfa' and the southern Ashhen in the vicinity of Kholkholeh village, 50 km north of Sweida province, killing a number of terrorists and injuring others in addition to destroying a vehicle with all ammunition and arms on board.
In Quneitra, army units, in cooperation with popular defense groups, clashed with terrorists near al-Baath city in the southern province of Quneitra.
Field sources told SANA reporter that the army killed and injured scores of the terrorists and destroyed a vehicle loaded with weapons and ammunition near Abu Shatta, 1 km north of al-Baath city.
In the northern province of Aleppo, an army unit targeted terrorist organizations' gatherings and hotbeds in the villages and towns of Qussayr, Jaboul, Hwejeneh, Kabbaret al-Ward, Rayan, al-Salheiyeh in the countryside of al-Sfeira city , 25 km southeast of Aleppo city, according to the military source.
Meanwhile the army smashed terrorists' dens in Tal al-Na'am, al-Sbeiha and Tal Faouri in the eastern countryside of Aleppo, destroying an ammunition depot, shells launcher pad and heavy machinegun in addition to killing and injuring a number of terrorists.
The army operations targeted hideouts of Jabhat al-Nusra and other terrorist organizations, resulting resulted in killing and injuring many terrorists in Khan al-Assal, Kafr Hamra and Zeitan, 16 km south west Aleppo city.
Additionally, a number of terrorists were killed and injured in an intensive army operation against their hotbeds in the neighborhoods of Bustan al-Qaser and Qastal Harami in Aleppo city.
The army units defending al-Neirab airport and the Air Force Academy carried out accurate strikes against terrorists' gatherings and hideouts in the areas surrounding the airport and the academy, killing numbers of terrorists and destroyed their vehicles.
In Idleb, army units targeted gatherings of the so called "Jaish al-Islam" terrorist organization in Kafr Oueid village, 20 km west of M'aret al-Nu'man in the southwestern countryside of Idleb, killing 7 terrorists and destroying their arms and ammunition, field sources told SANA .
Heavy losses were inflicted upon terrorist organizations' personnel and equipment in the army operations against their gatherings in Kfr Zeita, south of al-Taman'a and Attshana near the administrative borders between Idleb and Hama.
Meanwhile, army air force destroyed terrorists' hideouts in Mahambal, Khan Sheikhoun and al-Kfair in Idleb countryside.
In Hama, an army unit killed, at least, 15 "Jaish al-Fateh" terrorists in an ambush targeted a terrorist group during its attempt to infiltrate into the vicinity of Kherbet al-Naqous village in al-Ghab Plain in the northwestern countryside of Hama province.
Army units carried out intensive strikes on a terrorist organizations' convoy during its movement west of al-Latamneh town, 35 km north of Hama city, destroying a number of vehicles with all arms and ammunition onboard.