Syria
Syrian Army Advances in Several Front to Liberate Deir Ezzur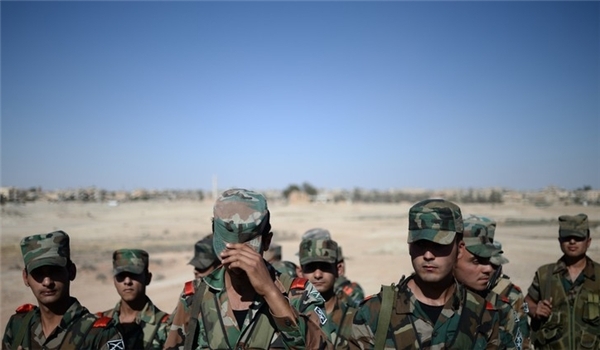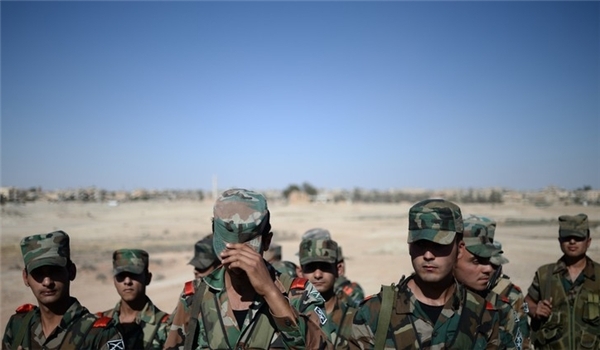 The Syrian army forces regained control of 30km of al-Sukhnah-Deir Ezzur road as they advanced in several areas in Raqqa towards Deir Ezzur.
The Syrian soldiers continued to advance after clashes with ISIL terrorists in the Eastern parts of al-Sukhnah on Sunday, taking back control of a 30-km area in al-Sukhnah-Deir Ezzur road which includes regions like Talat Saniyat, al-Tayyebeh, Wadi Abu Talleh and Wadi al-Rahibeh.
Meantime, local sources reported army's control over Wadi Qotoub region in Southeastern Damascus, stressing that the Syrian troops have advanced almost 15km towards Deir Ezzur after driving terrorists out of Southeastern Raqqa.
Also, a military source said that the army seeks to regain control of al-Boshra mountain that overlooks a large area of plain lands in Western Deir Ezzur later and speed up the military operations to lift the siege on Deir Ezzur.
Local sources confirmed on Saturday that the ISIL has sent more terrorists and military hardware to the Southeastern parts of Raqqa province to protect its last stronghold in the region against the Syrian Army troops' devastating advances.
The sources said that the ISIL terrorist group has forwarded a large number of forces and a large volume of military equipment to the town of Ma'adan in last two days to slow down the army soldiers' rapid advances in the region.
The ISIL is trying hard to prevent the fall of Ma'adan to the army because the latter's control over Ma'adan will pave the way for the pro-government forces to enter Deir Ezzur province.
The sources further added that the ISIL has also carried out several surprise attacks on army positions in areas surrounding Ma'adan to prevent the soldiers' advances.