Syria
Syrian army, allies make new advances against Daesh terrorists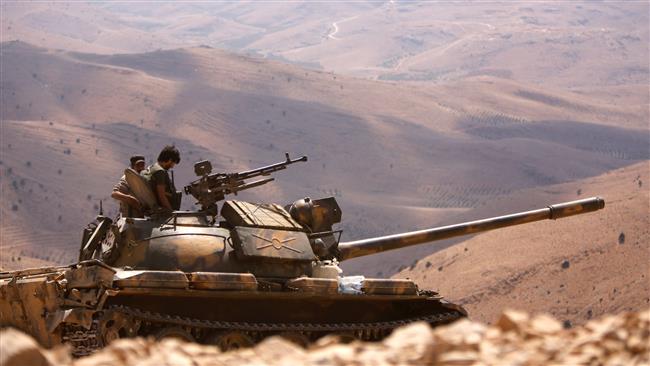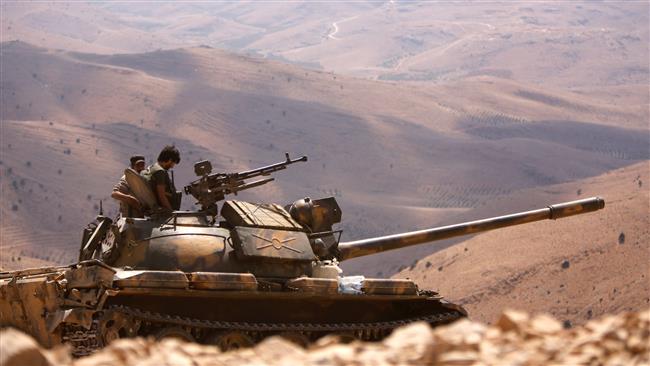 Syrian government forces, backed by allied fighters from popular defense groups, have made fresh territorial gains against the Takfiri Daesh militants in the country's southernmost province of Suwayda.
Military sources, speaking on condition of anonymity, told Syria's official news agency SANA on Tuesday that Syrian troops and their allies had established full control over Tal Asadi, Tal Jarin, Tal al-Rayahin and al-Sabouni districts as well as an area expanding 100 square kilometers.
The sources added that Syrian army units and their allied forces, who launched a major clean-up operation in Suwayda last Friday, are now combing liberated areas for mines and hidden improvised explosive devices (IEDs) in addition to last remnants of Daesh Takfiris.
The developments came only a day after elite units of the army, positioned on the strategic Mount Qasioun that overlooks the capital Damascus, struck Jobar district, located some 2 kilometers (1.2 miles) east of the Old City walls, as well as Ain Terma suburb, located 3 kilometers (1.9 miles) east of Old Damascus.
Syrian army troops also struck militant outposts in Zamalka, located 3.5 kilometers (2.2 miles) northeast of Old Damascus, Harasta city and Kafr Batna town.
Meanwhile, Syrian Air Force jets bombarded Daesh positions in al-Bawlieh Mountain, Ma'adan subdistrict, al-Khamaiseh, al-Jaber and al-Numaisa districts south of the northern city of Raqqah.
Elsewhere in Salamiyah district of the central province of Hama, Syrian military aircraft pounded Daesh position, inflicting heavy losses on their ranks.
Syria has been fighting different foreign-sponsored militant and terrorist groups since March 2011. UN Special Envoy for Syria Staffan de Mistura estimated last August that more than 400,000 people had been killed until then.