Syria
Syrian Army Closer to End of Homs Battle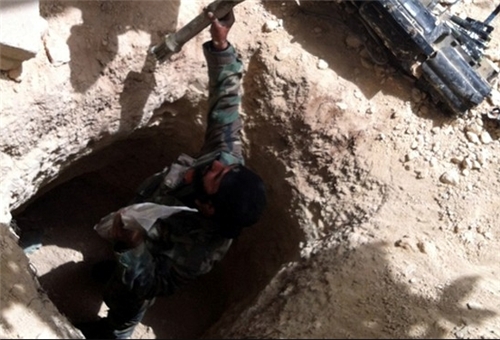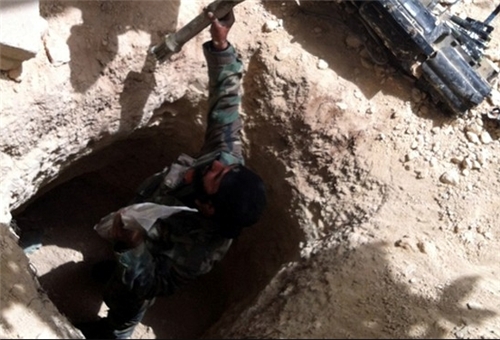 Syrian army soldiers have come closer to an end to the battle in the strategic city of Homs which is the epicenter of foreign-sponsored insurgency in the Arab country, reports said.
According to al-Alam reporter, operations are underway in Homs with the heaviest battles going on in al-Khalidiya neighborhood.
The reporter said, soldiers had to be more cautious in moving forward in Khalidiya because they were threatened by militants' snipers and mines put in throughout the neighborhood.
A Syrian army commander said they are optimistic to wrap up the operation soon since they have already taken several key areas under control.
Several militants' dens have been identified and cleared while the army has found tunnels dug in different parts of the city for storing arms and other supplies.
Dugging tunnels is a very common practice among Syria militants and dozens of hideouts and underground routes have been found by the army in each city, town and village.
In some areas tunnels can be found under almost every house and building.
As the army in moving forward in Homs, there are also reports of clashes going on in the city suburbs.
Syrian soldiers have been advancing apace in Homs, looking to break a lengthy stalemate in the city, which has been the scene of fierce fighting over the past year.
The two sides have been trading artillery fire in Homs for months, but the army started an all-out operation on May 30th to purge the city from foreign-backed militants.
The Syrian crisis started in March 2011, when pro-reform protests turned into a massive insurgency following intervention of western and regional states.
The unrest, which took in terrorist groups from across Europe, the Middle East and North Africa, has transpired as one of the bloodiest conflicts in recent history.
As the foreign-backed insurgency in Syria continues without an end in sight, the US government boosts its political and military support to Takfiri extremists.
Washington has remained indifferent about warnings by Russia and other world powers about the consequences of arming militant groups.