Middle East
Syria
Syrian Army Combs Khan Sheikhoun, Encircles Terrorists in Hama Countryside
Syrian Army on Friday weas combing Khan Sheikhoun city in Idlib southern countryside, in parallel with operation in the neighboring Hama countryside aimed at eradicating terrorists there.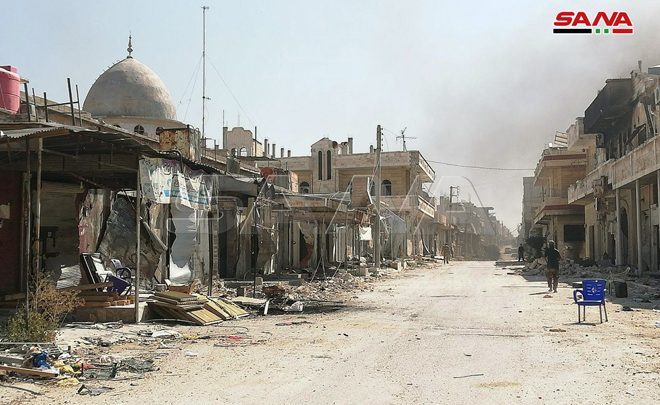 SANA news agency said Syrian Army units started combing operations of Khan Sheikhoun from terrorists' remnants, and dismantling mines and explosives there.
Meanwhile, Al-Ikhbariya TV said the Syrian Army encircled foreign-backed militants in a cluster of towns in northwest Syria's Hama countryside, imposing a "choking siege" and marching deeper into the pocket.
SANA said, meanwhile, that the Syrian Army managed to take control of several strategic towns in Hama northern countryside.
"Syrian Arab Army's units established control over towns of Latamina, Latmin, Maerkaba, Kafr Zita, and Lahaya in Hama northern countryside," the Syrian agency said.
On Thursday, Syria's Foreign Ministry has said it was opening a "humanitarian corridor" for civilians to leave the area.
The ministry, in a statement carried by Sana news agency, said that the corridor was opened in the village of Soran on the southern edge of the rebel-held area.
The corridor will be used to evacuate "civilians who want to leave areas controlled by terrorists in northern Hama and the southern countryside of Idlib" province, the statement added.
The besieged area is seen as one of the last strongholds of Al-Qaeda militants and allied terrorists.