Syria
Syrian Army Continues to Hit Al-Nusra' Defense Lines in Eastern Damascus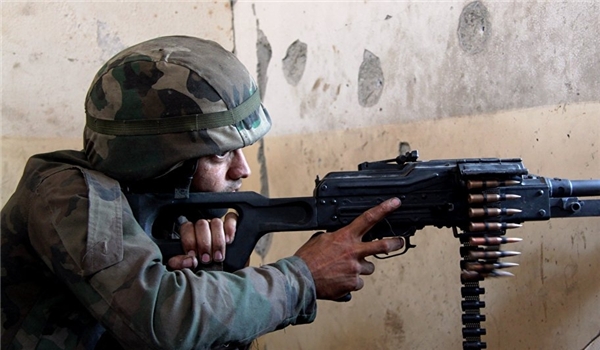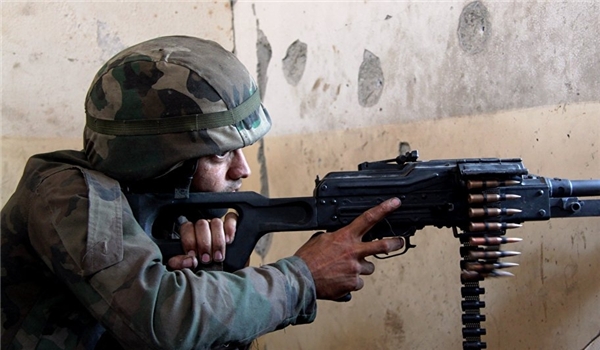 The Syrian Army troops stormed the positions of Al-Nusra Front (recently renamed to Fatah al-Sham Front) in Eastern, Southeastern and Northeastern directions of al-Qaboun district Northeast of Damascus city and prevailed over the terrorists' defense lines.
The army unis, backed up by the country's Air Force, continued their attacks on Al-Nusra's concentration centers in al-Qaboun district, ending a large part of their operation in the region.
The army soldiers managed to capture seven Al-Nusra terrorists, including one of the commanders of the group, after hours of clashes in al-Qaboun region.
Field sources said that the army aircraft and artillery and missile units targeted Al-Nusra's positions in several rounds of attacks in al-Qaboun.
The sources further added that main part of the army's operation in al-Qaboun and Tishrin districts have finished and the army soldiers managed to seize control over terrorists' tunnel seen as the backbone of the terrorists in Eastern Ghouta extending from al-Qaboun and Barzeh farms to Douma city.
They added that the last army-seized tunnel of the terrorists that stretched for over 2km in length was side enough for militants' vehicles to run through.
Informed sources said that the truce plan in Eastern Damascus declared by Russian Defense Ministry does not cover al-Nusra's territories, including their positions in Barzeh, al-Qaboun and Tishrin in Northeastern Damascus.
Reports said on Wednesday that the Syrian army seized control of several farms located between Barzeh and al-Qaboun districts and destroyed over 80 percent of al-Nusra Front's military grid and troops as they tightened their grip over al-Qaboun region East of Damascus province.
"The Syrian army destroyed 80 percent of al-Nusra Front's military bases inside al-Qaboun region in their missile and aerial attacks," a military source said, noting that tens of al-Nusra Front terrorists were killed or wounded in the army offensives.
Meantime, local sources said that the residents of Barzeh region staged a protest rally against the terrorists and raised the Syrian national flags to show support for the government, urging the terrorists to immediately leave their region.