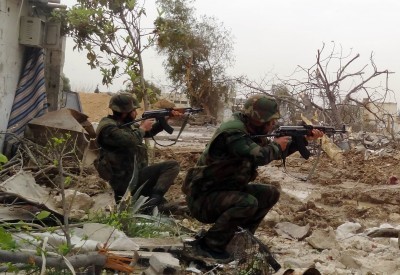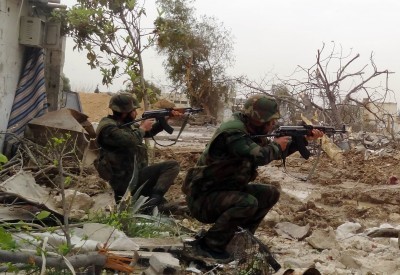 The Armed Forces on Tuesday carried out several operations against the armed terrorist groups in Homs countryside, inflicting heavy losses upon them.
A military source told SANA reporter that the army targeted terrorists' hideouts in the areas of al-Rastan, Talbeiseh, al-Ghanto, Bait Rabe'a, al-Amryeh, al-Bouida al-Sharqyeh, al-Masoudyeh and al-Hamydyeh, killing scores of terrorists and destroying their vehicles, some of which equipped with machineguns, in addition to destroying motorcycles used to transport terrorists.
An army unit eliminated several terrorist groups' leaders in the areas of Mazare Jouseh, Harat Bait Amon and al-Qseir.
Terrorists Abi al-Waled and Abi al-Hassan were identified among the dead.
In Palmyra, the army clashed with an armed terrorist group that tried to attack a military checkpoint and inflicted heavy loses upon the terrorists.
Army Units Direct Severe Bows to Terrorists in Idleb
In Idleb province, the armed forces continued hunting armed terrorist groups that were attacking citizens and perpetrating acts of sabotage and theft in different areas of the province.
A source in the province told SANA reporter that an army unit targeted terrorists' gatherings in Wadi al-Mahamid and Wadi haj Khaled to the west of Idleb city, in addition to some farms surrounding the city, inflicting heavy losses upon them.
The source added that the armed forces continued hunting the armed terrorist groups in Maaret al-Numan , the surrounding area of Wadi al-Deif and al-Hamedyeh, killing many of its members and destroying their weapons.
The source added that another army unit confronted terrorists who attempted to attack two military checkpoints last night in Filoun and Dream Land site in the surrounding area of Idleb city, inflicting heavy losses upon them, as others fled away to the surrounding orchards.
Terrorists Suffer Heavy Losses in a Series of Operations in Damascus Countryside
The armed forces inflicted heavy losses upon the terrorists in a series of accurate operations in al-Eteiba, al-Obadeh and Douma in the Eastern Ghouta in Damascus Countryside, destroying their weapons and ammunition.
An official source told SANA reporter that terrorists' dens with all weapons inside were destroyed in two operations of the armed forces in al-Eteiba and Obadyeh towns, killing many of the terrorists and injuring others including Maher Abu Shahin, a terrorist gang leader, in addition to the terrorists Abdul Aziz Qalla, Yassin Attaya and Ahmad al-Kelani.
In another military operation, many terrorists were killed and injured near al-Qouatli Street in Douma City , destroying the cars that were transferring the terrorists, their weapons and ammunition.
Terrorist Bassel Sisan, leader of a terrorist group from the so-called "Liwa al-Islam Brigade" was killed, in addition to Hassan al-Dorra and Salah Khibbia.
The source added that terrorist Abu Ahmad was killed in a neighboring street during preparing an explosive device.