Syria
Syrian Army Crushes Remnants of Terrorists in Qalamaoun, Recaptures Maaloula, Sarkha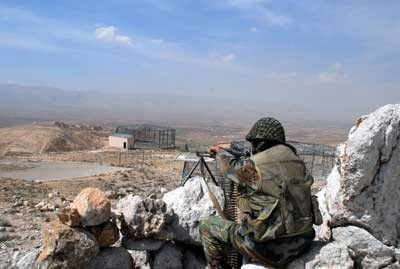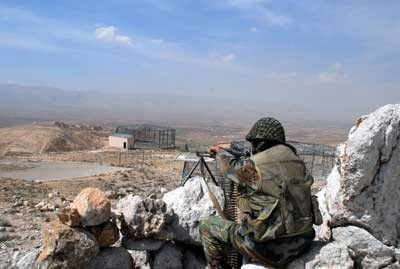 The Syrian army struck the remnants of terrorists in the region of al-Qalamoun, as it captured the Christian town of Maaloula and al-Sarkha on Monday, a day after it regained full control of the eastern mountain
Syrian army soldiers
s overlooking the liberated town of Rankous.
Units of Syrian army retook the ancient Christian hamlet of
Maaloula, al-Manar correspondent reported.
Our correspondent said the Syrian army was working on deactivating the bombs planted by terrorists, adding that soldiers entered as-Safir Hotel as they recaptured Deir Mar Takla near the hotel.
Units of Syrian army also restored security in the town of al-Sarkha, which also lies in al-Qalamoun region in Damascus countryside, the correspondent said.
He also reported that the terrorist militants were scared, adding that they fled the liberated areas as they rode more than 50 vehicles heading to the surrounding area of Arsal barrens and other areas.
Official news agency quoted a military source as saying that the mountains surrounding Sarkha were in the hands of the Syrian army soldiers, who crushed huge number of the foreign-backed terrorists.
Earlier, the Syrian army established full control over the eastern heights overlooking Rankous plain, SANA reported.
The agency quoted a field commander who named the heights: Ra'as Tahoun al-Hawa hill, the plateau overlooking the Lebanese town of al-Tufail, Jamea'a al-Nour hill, and the Birds Reserve hill.
The commander noted that the Syrian army carried out a series of precise and concentrated operations in the area, killing a number of terrorists and destroying their weapons.
He added that the army units also dismantled explosive devices planted by terrorists.
The Syrian army also regained control over the top of Sal Derin Mountain, known as "Tshalma" overlooking Kasab city, in Lattakia countryside, and the surrounding area, pursuing terrorists in the area and eliminating a big number of them.
A military source told SANA that a unit of the armed forces foiled armed terrorist groups' infiltration attempt into Bustan al-Bash in Aleppo.
The army unit also killed and injured a big number of terrorists and destroyed 2 cars equipped with heavy machineguns and a mortar.
The source added that another army unit eliminated 12 terrorists, among them 5 snipers in al-Awared neighborhood in the city of Aleppo.
Other army units inflicted heavy losses upon the terrorists surrounding the industrial city, Alliramoon, Handarat, Daret Azza, Bianon, Marea, Izzan, Khan Touman, al-Atareb, al-Wdaihi, Kibtan al-Jabal, al-Ameriyeh, Kwairis, al-Jadideh, Erbid and Rasem al-Abboud.
The Army and Armed Forces units killed a large number of terrorists, injured others and destroyed ammunition warehouse in ICARDA building on Aleppo-Damascus road.
A military source said that the army units killed 16 terrorists and wounded several others linked to the so-called Ahrar al-Sham organization and destroyed an ammunition warehouse in ICARDA on the road of Damascus-Aleppo.
The source added that terrorists' gatherings in Abu al-Dhor, Humaimat al-Dayer in Idleb countryside were targeted where many terrorists were killed and wounded.