Syria
Syrian Army Destroys Al-Nusra Terrorists' Positions in Idlib, Hama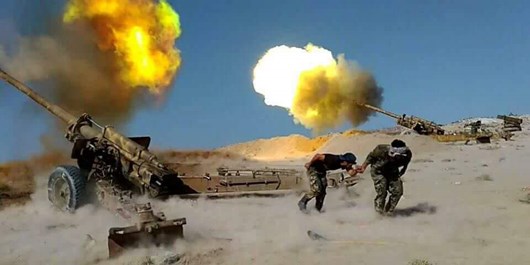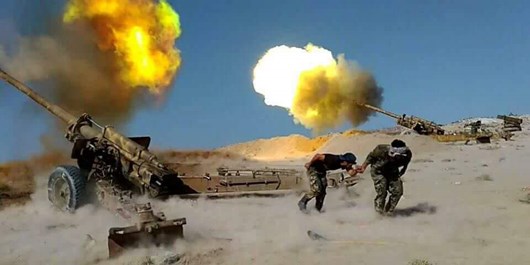 The Syrian army pounded and destroyed the military positions and movements of Tahrir al-Sham Hay'at (the Levant Liberation Board or the Al-Nusra Front) terrorists in Hama and Idlib provinces, inflicting heavy losses on them.
The Damascus army's artillery units pounded a group of Tahrir al-Sham terrorists in the surrounding areas of Jisr al-Shoghour in Western Idlib, killing and injuring all terrorists, including their snipers while destroying their weapons and military equipment.
In Northern Hama, the army's missile and artillery units pounded the movements of al-Nusra Front terrorists in the outskirts of al-Latamineh town, inflicting heavy casualties and losses on the militants.
Meantime, the Syrian army's artillery units pounded the military positions of Tahrir al-Sham and its allies near the al-Zuka village in Northwestern Hama, killing several terrorists.
In a relevant development on Saturday, the army forwarded a large number of forces and military hardware, including armored vehicles and heavy weapons, to contact lines with the terrorists in Northern and Northeastern Aleppo in the last few days.
A field source reported, meantime, that over five thousand army men and a huge amount of arms and ammunition have been deployed in a large region from al-Shahba dam to contact lines with terrorist-held Afrin, Um Hawsh, Tal Rifat, Habal, Ein Daqna, Minq and its airport, Deir Jamal, Nubl and al-Zahra and other regions in Northeastern Aleppo.
The source further said that deployment of more army forces and equipment is mainly aimed at countering possible attacks of the terrorists and also preparing for a large-scale cleansing operation to purge the region from the remaining pockets of the terrorists.
The source went on to say that fourteen civilians, including children and women, were killed or wounded in the terrorists' mortar attack on al-Lairamoun region North of Aleppo.