Syria
Syrian Army Destroys Terrorists' Movements in Demilitarized Zone in Hama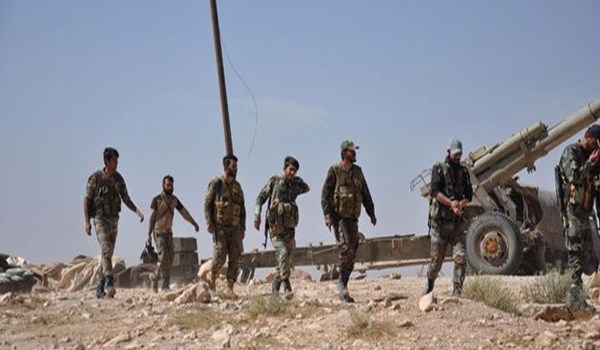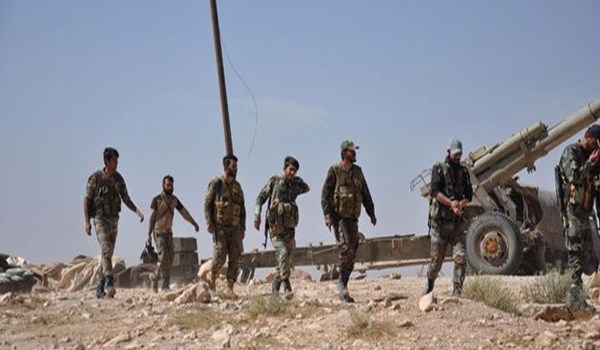 The Syrian Army pounded the military positions of Tahrir al-Sham al-Hay'at (the Levant Liberation Board or the Al-Nusra Front) in Northern Hama after they resumed attacks on the government forces' military positions from the demilitarized zone.
The Syrian Army's artillery units in Northern Hama targeted a terrorist group that was trying to penetrate into the government forces' positions from the town of Ma'arkabeh, destroying an armored vehicle as well as killing and wounding several terrorists.
Also in Northwestern Mahradeh in Northern Hama, the army's missile and artillery units heavily pounded the military positions and movements of the terrorist groups in the villages of Tal al-Sakhar, al-Janabereh and al-Jarieh in Northern Hama before they could attack the Syrian army's military positions, destroying several military positions of the terrorists as well as killing and injuring a number of terrorists.
The Syrian government troops, meantime, targeted the military positions of Tahrir al-Sham terrorists in the town of al-Bouzeh as they were preparing to attack the Syrian Army positions in Northern Hama. The Syrian Army inflicted heavy losses on the terrorists in Northern Hama and destroyed their military equipment and hardware.
In relevant remarks on Wednesday, the Syrian Army opened heavy fire at the movements of Tahrir al-Sham Hay'at and its allied terrorists in the demilitarized zone on Wednesday, preempting their offensives in Northern Hama and Southeastern Idlib.
The army's artillery and missile units pounded the positions and movements of Turkistani Islamic Party in the village of Qastoun in al-Ghaab Plain in Northwestern Hama, destroying several terrorist bases and arms depots and inflicted heavy casualties on the militants.
In the meantime, other artillery units pounded the movements of Jeish al-Izzah terrorists in Hasraya, al-Jisat, al-Arbaeen and Wadi al-Dorat, killing and wounding a number of terrorists.
Meanwhile, other artillery units, deployed in Southeastern Idlib, launched heavy shelling on Tahrir al-Sham's positions near the small town of Jarjanaz, inflicting major losses on them.
The terrorists' refusal to implement the Sochi Agreement to establish a demilitarized zone is pushing the army to initiate its long-waited assault on militants in Idlib that had been put on hold due to the Sochi Agreement.