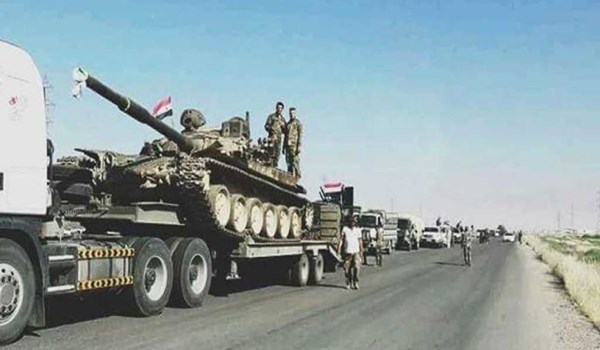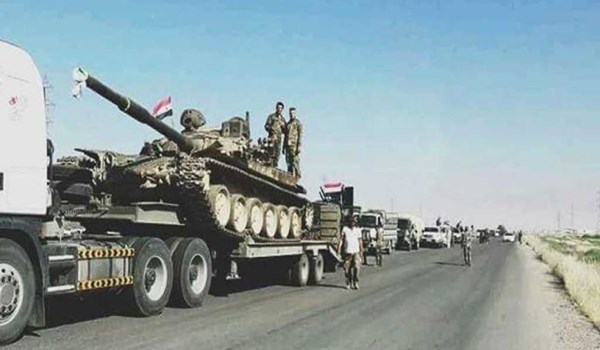 The Syrian Army forwarded a large number of fresh soldiers and military hardware to Deir Ezzur province near the border with Iraq on Saturday to counter ISIL's threats.
The Army sent 2 convoys of military vehicles to regions near the town of Albu Kamal in Southeastern Deir Ezzur near border with Iraq.
The convoys included a large number of forces from the 5th Division along with a large volume of arms and ammunition and armored vehicles.
The army's decision to reinvigorate positions in Southeastern Deir Ezzur came after ISIL intensified attacks on the Western bank of the Euphrates River.
In the meantime, a number of Russian and Syrian forces were sent by military planes to Deir Ezzur airport.
Meanwhile, the army men engaged in fierce clashes with ISIL in Albu Kamal and managed to repel their attacks after inflicting major losses on the terrorists.
Last month, the army sent hundreds of fresh forces and more military equipment to Southeastern Deir Ezzur on the Western banks of the Euphrates River to reinvigorate its combat capabilities to counter ISIL terrorists.
In the meantime, field sources said that the army sent its forces, deployed in Lattakia, Idlib and Hama to Deir Ezzur, including to Albu Kamal region.
They said that the army's move came after ISIL's recent attacks on the army to advance on the Eastern bank of the Euphrates River and seize control over border regions with Iraq.