Syria
Syrian army forces make fresh gains in Dara'a, raise flag in another town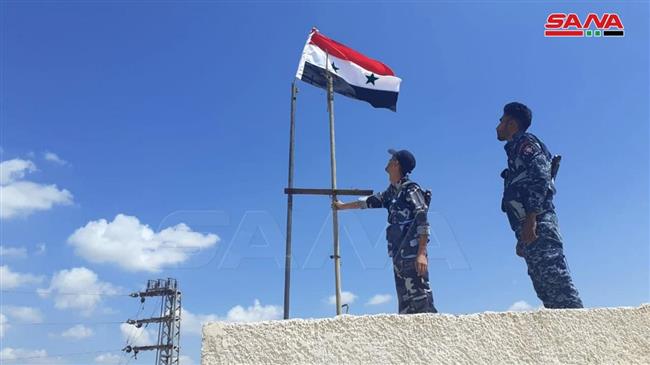 Syrian army troops and security forces have raised the national flag in another town in the country's southwestern province of Dara'a, as government soldiers continue their push to retake full control of areas that Takfiri militants once held.
Syria's official news agency SANA reported that the town of Muzayrib, located northwest of the provincial capital city of Dara'a, returned to state control on Thursday, and army soldiers raised the national flag over its town council.
The report added that the development came as dozens of militants have been handing down their weapons to Syrian army forces over the past few days.
"Today marks a new triumph in the list of the Syrian Arab Army's victories. The heroic sacrifices made by army troops created a chance for a surrender deal as militants and gunmen handed over weapons in their possession," Dara'a Provincial Police Commander Brigadier General Zirar Mujham al-Dandal told SANA.
He added, "People started returning to Muzayrib after security forces had fully carried out preparatory and rehabilitation work."
Governor of Muzayrib Lieutenant Colonel Ali Zino said, "Police units are deployed to the town in order to help local people and re-launch public services there as well as neighboring areas."
On Monday, Syrian army entered the town of al-Yadudah, located northwest of Dara'a, after 10 years.
Syrian military officials were accompanied by Russian forces as they made their way to the southern Syrian town previously held by foreign-backed militants, Lebanon's Arabic-language al-Mayadeen television news network reported at the time.
Last week, Syrian army units entered Dara'a al-Balad neighborhood and raised Syria's national flag there.
Under a truce deal brokered by Russia and reached on August 14, militants were obliged to hand over their weapons, and government forces were due to install checkpoints in nine districts of Dara'a al-Balad.
All militants who refused to lay down their weapons were to depart for the north of Syria or Jordan by buses provided by government authorities.