Syria
Syrian army helicopter crashes, militants capture crew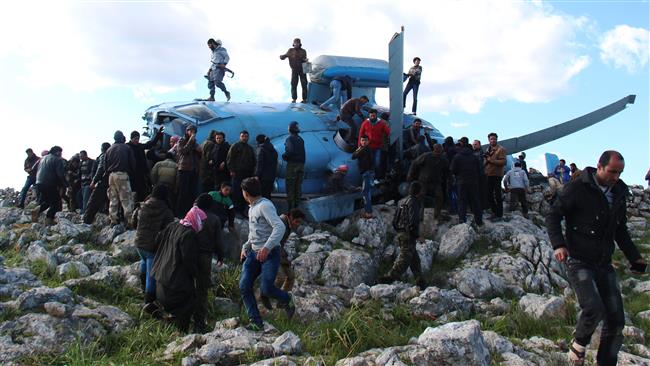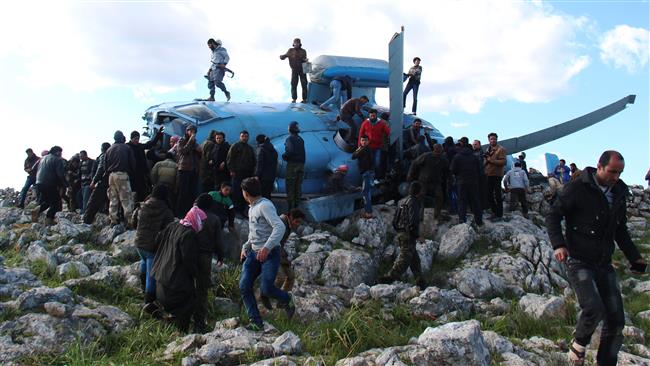 Foreign-sponsored militants have taken hostage at least four crew members of a Syrian military helicopter that encountered a technical glitch and made an emergency crash-landing in Syria's northwestern Idlib province.
"A regime helicopter was forced to land in the region of Jabal al-Zawiya in the northwest, which is a bastion of (al-Qaeda-affiliated) al-Nusra Front," Rami Abdel Rahman, head of the so-called Syrian Observatory for Human Rights, said on Sunday.
"Four of the crew members were captured and a fifth man was killed by armed men in neighboring Frika village," he said.
Abdel Rahman said two of the servicemen were being held by the al-Nusra Front, while the other two were captured by an unknown militant group. The fate of one more crew member remains unknown.
Pictures provided by the Britain-based monitoring group showed a damaged helicopter, which had rolled onto its side on a rocky hilltop, and militants inspecting the wreckage.
Meanwhile, Syria's official SANA news agency reported that a helicopter had crashed in Idlib after a mechanical problem, and said authorities were searching for the crew.
So far over 210,000 people have reportedly died in Syria, which has been gripped by deadly violence since March 2011.
New figures show that over 76,000 people, including thousands of children, lost their lives in Syria in 2014. Nearly 4 million Syrians have left their country since the beginning of the crisis, and 7.6 million civilians have been internally displaced.