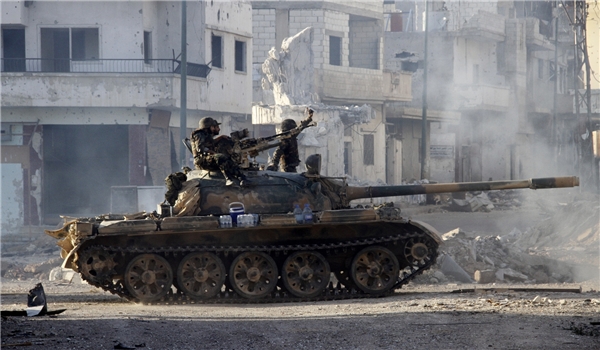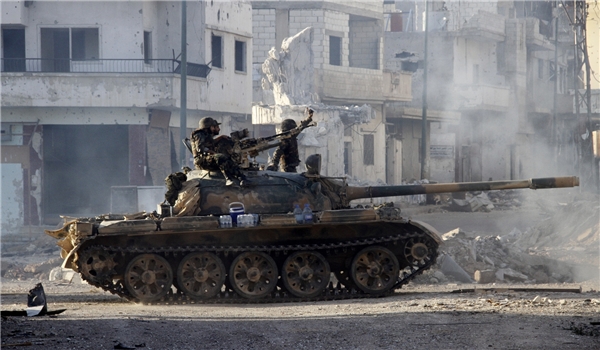 The Syrian Army troops alongside Hezbollah fighters drove the militant groups back from their main supply line near the border with Turkey and imposed full control over the highway.
The Syrian army men and Hezbollah ultimately cut off the terrorist groups' main supply route from the Turkish city of Gaziantep, marking the first time in nearly 3 years that they have had a presence along the Aleppo-Gaziantep Highway that stretches through the Aleppo province's Northern countryside.
With the recent capture of Ratyan and Mayer in Northern Aleppo, the Syrian Armed Forces have finally reached the Aleppo-Gaziantep Highway near the contested villages of Bayanoun, Kafr Naya, and Hayyan after an intense battle with the terrorists of al-Nusra Front, the Free Syrian Army (FSA), Jeish Al-Mujahiddeen, Harakat Nouriddeen al-Zinki, and Harakat Ahrar Al-Sham.
The Aleppo-Gaziantep Highway was the primary roadway for the militants to transfer supplies and reinforcements to the provincial capital of Aleppo province; its obstruction forces the opposition to rely on seasonal roads from the Idlib province that are easy targets for the Russian and Syrian Air Forces.
Also on Saturday, the Syrian army troops and their popular allies continued to target the militant groups' positions along one of the supply routes of the terrorists in the Northern part of Aleppo and pushed them back form the battlefield following hours of intense battle.
The Syrian army troops, Hezbollah, the National Defense Forces (NDF) and several Iraqi paramilitary units imposed full control over Bashkoy-Ratyan Road after seizing the important Soap Factory from al-Nusra Front and Jeish al-Mujahiddeen.
The capture of Bashkoy-Ratyan Road has allowed the Syrian Armed Forces and their allies to advance against the militants in Hayyan.