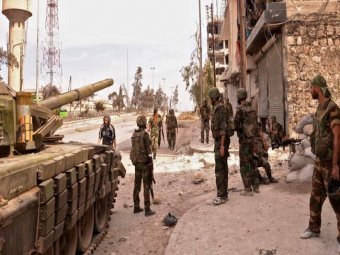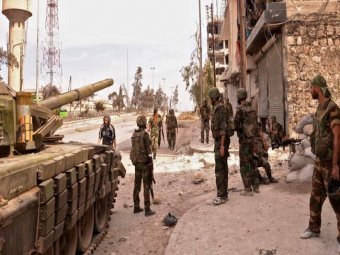 Breaking News reporter in Hasaka denied the news about a big explosion in the city, confirming that the city is calm and peaceful.
In Daraa, our correspondent stated that the 3 militants Adnan Sultan, Abed al-Qader Kanakri, called as Abu al-Zattamia, and the leader Muhammad Hussein al-Sherek, have been killed.
In Homs, a military source confirmed in an exclusive statement to Breaking News that the clashes continued in al-Qusair and its countryside, where the Syrian Army is determined on the fast settlement.
The source declared that the Syrian Army has moved forward against the gunmen, where the Army killed about 1000 insurgents and injured hundreds of them, as they escaped to Lebanon.
Breaking News correspondent in Homs pointed out that militants have attacked a bus, heading from Lebanon, at al-Rayhania junction on Homs – Tartous road.
The reporter said that the militants assaulted the passengers of the bus, what resulted in 8 martyrs and 8 injuries.
In Aleppo, that battles continued in the intense neighborhoods, where our reporter there pointed out that the Syrian Army was able to kill 10 gunmen in clashing with them near the Eyes hospital, as 15 other gunmen were killed at Qadi al-Asqar roundabout.
In Edlib, our reporter stated that the Syrian Army foiled an infiltration attempt for insurgents at Azmarin location in Salqeen, which resulted in the death of many of them who were coming from Turkey.
Syrian Army units clashes with armed rebels in Kharja and Deir Sanbel villages, of Jabal al-Zawieh, what resulted in deaths and injuries upon the militants' ranks and the destruction of several vehicles, provided with machineguns.
The severe clashes took place for the fourth day on a row in Ma'aret al-Nu'man, where a field source pointed in an exclusive statement for Breaking News Network that the Syrian Army forces have chased the insurgents of Free Army militia, what resulted in the death of many gunmen.
The source pointed out that the dead militants included the so-called al-Maslan, where engineering units dismantled 10 explosive devices on Darkoush road.
The Syrian Army caused insurgents, who targeted a military patrol, major losses in Ma'aret al-Nu'man countryside, where a military source pointed out to Breaking News Network the death of a leader in Free Army militia, called Abu al-Tareq.