Syria
Syrian Army Kills Notorious Takfiri Commander in Damascus Countryside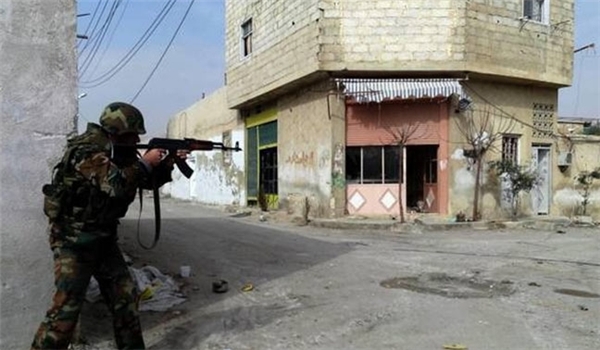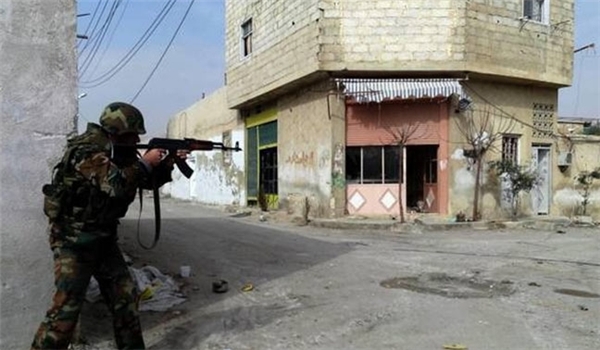 The Syrian army has killed a notorious commander of Jaysh al-Islam Takfiri terrorist group in Damascus countryside, media reports said.
Abu Rateb Badran was killed near the town of al-Dukhaniye in the Eastern countryside of Damascus on Saturday, the Lebanese Al-Ahd news website reported.
Al-Dukhaniye wa the scene of heavy clashes between army troops and the Al-Nusra Front terrorists since Thursday, and tens of militants have been killed and dozens more wounded.
Syrian military sources announced earlier today that Al-Dukhaniye district which is located in the Eastern countryside of Damascus has come under full control of the army.
Earlier today, the Syrian army seized back the strategic town of Helfaya in the Central province of Hama from the Al-Nusra Front terrorists after heavy clashes.
Military sources in the region told FNA that over 1,500 Al-Nusra Front militants have fled to other nearby villages.
In Joubar, the army killed and injured many terrorists, and targeted a long convoy of their vehicles loaded with weapons and ammunitions.
A military source said that the Syrian soldiers stormed the hideouts of the militants in Kanaker, Beit Jann and al-Qalamoun in the countryside of Damascus.
Scores of Syrian and non-Syrian militants, including Riyad al-Qasir, Fadi Laqis, Mohammad al-Samadi, Abdullah al-Matiri (from Saudi Arabia), Jamal Baidoun, Mohammad Saqraq were eliminated in the operations.